Biolan aids victims of Hurricane Laura
The psychology major and mother of one describes the devastating wreckage of tropical storms.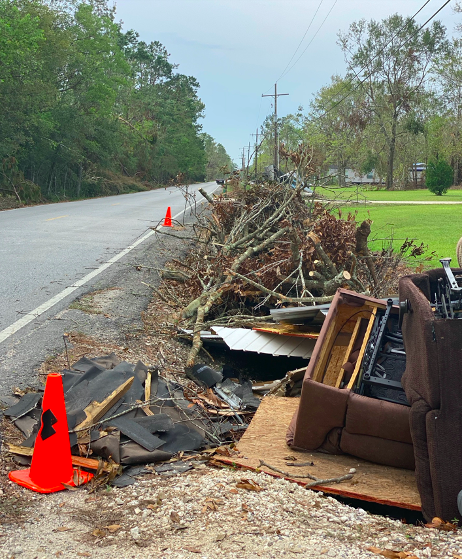 A few weeks after Hurricane Laura tore through the southeastern United States, Tammy Sandoval, a 39-year-old senior psychology major, felt called to service. She left the comfort of her own home in hopes of rebuilding what was left for others. Upon arriving, she entered a dark and seemingly peaceful night in Lake Charles, Louisiana. According to Sandoval, the next morning, she woke to the gleam of a scorching, southern sun that stretched over the horizon, revealing the vast devastation of a city that lay in pieces. 
A CHAOTIC ARRAY OF OBSTACLES
"Every neighborhood is lined with debris and soaked furniture. The wreckage is random, but everywhere," Sandoval said.
The Category 4 hurricane brought 150 mph winds and storm surges as high as 15 feet to the 80,000 residents of Lake Charles. 
"Street signs, billboards, gas stations and houses were destroyed," Sandoval said. "You'll see two houses that are completely destroyed next to a home that looks untouched."
Louisiana had not seen a storm as powerful for over a century, according to CNN. The Louisiana Department of Health reports 27 storm-related deaths, a count that has been rising ever since Laura touched down on Aug. 27. Damages are estimated to require years of repair. For some, the damage will be permanent.
Sandoval was stationed with the disaster relief organization Team Rubicon in one of several groups of about 50 people. Her son, a senior in high school, stayed back in her hometown of Spirit Lake, Idaho. 
"Since I was in an area with severe power loss, my cell coverage was not great. I had to text my son in select areas of coverage," Sandoval said. 
The disasters just kept piling on. While on the job, Sandoval, the appointed head of safety for her station, was faced with several new dangers, such as Hurricane Sally threatening from the South and fires threatening her home in Idaho, where her son remained. 
"I warned him about our concern of Sally without much availability to keep in constant contact," Sandoval said. "We were both worried about each other."
Additionally, the wreckage drew in thieves and con artists. Sandoval recalled seeing signs made to scare looters away plastered alongside the curbs. 
"People spray paint signs that say 'no looting' or show [assault rifles] because people will steal from them," Sandoval said. "The church I was staying at had another shelter set up. A mob of people went in there and robbed them of all their supplies." 
A local ABC News station announced that the Louisiana National Guard was on patrol to prevent further looting.
SURVIVING AMONG THE DAMAGES
Sandoval recalled helping an older woman, Gloria, who they stumbled upon while working on an adjacent home. 
"Her house was destroyed. We could smell the mold from the driveway," Sandoval said. "She told us she had hired somebody to do her roof several weeks ago, but they just never showed up. There was mold everywhere and at least four or five holes in the ceiling. It would probably have to get knocked down." 
She and several other Team Rubicon volunteers tarped Gloria's roof in 105 degree weather and 95% humidity. Their reward: a beaming smile, a "thank you" and a "God bless you." Sandoval felt it was more than worth it.
HOPE WITHIN THE DESTRUCTION
Someone said, "We had felt so forgotten," Sandoval remembered. 
Yet, Gloria and the people of Lake Charles miraculously maintained a positive and perseverant character amid their suffering. Sandoval was inspired by the persistence of God's grace in such a ruinous setting. 
"Their hope and faith are so strong it's amazing," Sandoval said. "They have nothing, but they hold on to this hope."
God kept raining down his blessings as Alaska Airlines began a disaster relief donation pool that allowed volunteers to fly for free. Sandoval did not pay a dime.
WHAT CAN WE DO?
Team Rubicon is always accepting donations that contribute to the years of repair that are to come. Likewise, volunteer applications are always available, though to Sandoval's satisfaction, the teams scheduled for the next few trips are completely full. 
"Even if I sacrificed my grades, I had to help these people," Sandoval said.