Newport Beach Film Festival showcases Biola student films
Though the festival transitioned to an online format, a select few cinema and media arts students are able to display their work.
The ability to attend film festivals is one of many losses of COVID-19. Filmmakers around the world are unable to make valuable connections, soak in the creations of others and have their own projects shown to an audience on the big screen, as they so often look forward to. However, some of Biola's cinema and media arts students have been given the pleasant opportunity to have their films screened online for a revised edition of the 21st annual Newport Beach Film Festival.
NEW FORMAT
With the pandemic still being a prevalent issue, festivals such as this one have had to revise the ways in which they deliver. Recognized by Variety as one of the leading lifestyle film festivals in the U.S., the Newport Beach Film Festival has come up with a few clever ways of bringing filmmakers' content to the comfort of audience's own homes, while still making a profit. Viewers have a variety of options for viewing films as well as attending virtual events. $5 will allow audiences access to various individual collegiate, youth or music video packages, $10 allows access to individual programs or feature films and $75 will purchase a festival pass allowing access to everything.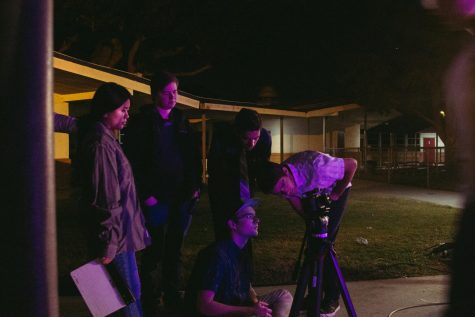 Each year, the festival showcases short films from various nearby colleges. This year, Biola was selected alongside California State University, Fullerton, California State University, Long Beach and Saddleback College. For that $5 fee, audiences can view eight unique short films from talented students. All of the films will be available through Sunday, for the duration of the festival.
STUDENT SHOWCASE
Sophomore cinema and media arts majors and twin brothers Ethan and Luke Montgomery had their short film "The Flower Man" selected to be featured in the collegiate showcase. Inspired by their personal experiences with relationships being hindered by the distraction of technology, the story follows a shy, lonely high schooler who desires real connections and has trouble finding them. He resorts to a community flower garden to aid him in his efforts.
Written and shot in Fall 2019, the brothers' intentions were to get the most out of "The Flower Man" as possible, which included entering the film into festivals and getting eyes on it. Though holding the Newport Beach Film Festival online still gives filmmakers the opportunity to get eyes on their work, it still takes away from the opportunity to make valuable in-person connections.
"There are so many valuable things about film festivals," Luke Montogomery said. "You're putting your film in front of an audience and learning, 'What makes my film work? What doesn't work?' And you're also making your film marketable."
Senior cinema and media arts major Kyle Venberg entered the very first film he directed to be shown in the festival. "It's (Not) Complicated" is a witty take on the classic story of a boy deciding to pursue a girl or not, with the theme of "indecision prevents action." As someone who generally works in other positions in the camera and sound departments on set, this film is near to his heart as it allowed him to be more in control of the story over technicalities.
"It was the first collaborative piece that I undertook at a narrative level," Venberg said. "I had a team of people that surrounded me and it was an amazing experience having people help you tell a story that you're passionate about."
Though the experience that comes with attending a physical film festival was lost with this opportunity, Venberg remains thankful for the amount of additional accessibility and visibility that comes as an advantage to streaming the festival online.
"You do miss out on the in-person theatrical presence being there and engaging with your film," Venberg said. "But at the end of the day, it's a bigger audience with more visibility and more opportunities for it to be seen."