Biola reaches record high enrollment of ROTC students
ROTC students persist with their training through COVID-19 challenges.
Biola is a sister school to Cal State Fullerton's Army Reserve Officers' Training Corps Program. While attending Biola full time, the ROTC students are engaging in field labs, a military science class and physical training three days a week. COVID-19 adds a different kind of obstacle for them. The recruits must be vigilant of their surroundings to ensure that they are following health guidelines to prevent the spread of the virus.
WEAR A MASK OR DON'T SHOW UP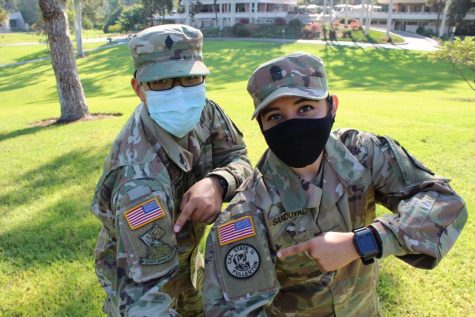 From the time they set foot on campus to the moment they leave, ROTC students are required to wear masks at all times. Despite training outside in an area that allows social distancing, they are required to wear a face mask— no exceptions.
"The biggest thing for me is the requirement to wear masks at all times… running, doing push ups. It's really annoying. I'm not able to breathe as well as I should," said sophomore business major Mitchell Sullivan.
Freshman pre-nursing major Jaclyn Scoggins is currently taking 18 credits. After the 12 hours she, and others, spend at CSUF every week, she commutes home and wastes no time working on her assignments.
"The cadre are always yelling at us to be 6 feet apart. It's hard for training purposes," Cadet Scoggins said. "Breathing is so hard, I feel like I am sucking in my mask."
CHANGES TO THE PROGRAM
COVID-19 affects more than just their physical training. The Ranger Challenge Program was shut down due to the pandemic. It is a varsity ROTC where recruits would compete against other colleges and train five days a week for two hours.
"That was my favorite part of ROTC hands down," said sophomore business administration major Cameron Huelin. "Having it cancelled was a real bummer for me. The recruits and I would constantly push each other to do better, and now we're all scattered across the battalion."
ROTC students are missing out on the "full experience," just like the rest of the Biola student population. They are living at home and have to commute to CSUF at 5:30 a.m. sharp, regardless of how long the drive is.
"It's already less than ideal so thinking about it makes it worse," Sullivan said. "I won't let it take a toll on my mental health. I go with the flow and don't let it get to me."
FINDING COMMUNITY IN ISOLATION
On Aug. 24, the recruits gathered for the first time during the school year at Cal State Fullerton. A sense of community was finally established and the cadets no longer had to train alone. Scoggins reminisces about the comfort she found in her team among the uncertainty.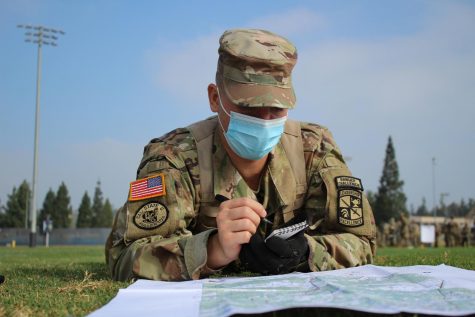 "The first day I went to ROTC, I was happier. Despite precautions, being around my fellow ROTC recruits is helping a lot," Scoggins said.
The changes the program has undergone have not wavered the state of their mental health. Instead, they see the necessity to be there now more than ever.
Regardless of the pandemic, the ROTC Program is critical for the building of America's national defense, according to Huelin.
"The Army can't shut down," Huelin said. "They will always have a need for national defense, so I'm super grateful to train and keep going with the program. I feel called to it."
While school facilities are unavailable to them, they have one another. They are expected to display the military mindset despite the past and present hurdles that get in the way. ROTC students may be a minority at Biola but their struggles and triumphs are just as momentous.