Hands-on majors adjust to an online semester
CMA, chemistry and art majors continue adjusting to remote learning at the start of fall semester.
Before the fall semester began, faculty and staff anticipated to teach students through hybrid classes. Biola had designed a system that would allow a limited number of students to be present in class, while others watched via Zoom. When President Barry Corey announced that Biola's campus would be closed, departments had to quickly reimagine their approach to hands-on classes.
HOW THE SEMESTER IS LOOKING
Cinema and media arts, chemistry, and art students underwent the most changes as their hands-on learning seemed to be cut short. 
"For me the whole appeal of being at film school is to have access to the equipment room, have access to the equipment, and to be able to meet other filmmakers," said Griffin Douglass, a junior cinema and media arts major. "You miss a lot of the charm that it has in-person if you do it online."
While students within driving distance are able to check out equipment for longer periods of time, others may have to adapt to new formats of filming.
CMA professor Dean Yamada explained that projects such as the Biola Film will still take place, though they will look different from previous years. They are looking at the possibility of shooting virtually or in-person, while adhering to California guidelines.
Other professors, such as John Schmidt, have come up with new ways to make sure their students are getting hands-on experience. In an email, Schmidt described his new class system in which students learn cinematography with the same equipment he has in front of him, but simply from home. He set up in Studio A, where students would normally have their cinematography class, and lectures through Zoom as if they were there with him.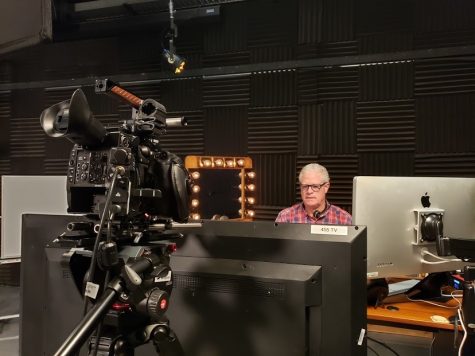 EMBRACING TECHNOLOGY
Art students are also having to adapt to new media. Art professor Luke Aleckson has transitioned his sculpting class to Adobe Creative Cloud, which allows students to create 3D models of their art via online programs. Aleckson believes this transition also gives insight into what other artists did when they could not use traditional methods in the past. 
"We're also talking about the lineage and the history of what artists do when they don't have space, or money or resources," he said. "Because art has always existed."
Science professors have also had to get creative when it comes to labs. Chair of the Department of Chemistry, Physics and Engineering Eric Hedin explained that labs are fully pre-recorded now and that students will gather data from the videos instead of performing their own experiments. 
Students were not thrilled when the news hit. Junior chemistry major Nathan Jensen was disappointed when he learned he would not be able to move back to campus. 
"Research opportunities that science majors generally have access to are not available this semester due to being remote, which is unfortunate," Jensen said.
Although watching a lab is different than conducting one, faculty is available in real time to answer any questions or concerns students may have. 
OWNING THE PRESENT
Yamada explained that by teaching his students to shoot and produce virtually, they will be able to continue storytelling in a variety of circumstances. He hopes to empower his students to push through these challenging times.
Faith remains an important part of the Biola education even though students may not be sitting in a classroom this semester. Aleckson wants his students to think about how art and faith go together.
"That's a part of the way we integrate faith in our discipline and how artists contribute to the world beyond art and contribute to a collective human understanding of 'This is what we're going through, this is how we can experience hope, this is how we can experience healing and how does our faith speak into that,'" Aleckson said.