Fire safety specialist finds AC unit malfunction as cause of Thompson Hall evacuation
Students were offered temporary relocation last night and cleared to return at 11:39 a.m. today.
This story was updated on Feb. 5 at 11:11 p.m. to include new information regarding the source of the smoke. 
This story was updated on Feb. 6 at 1:29 p.m. with confirmation of the smoke's cause from the fire safety specialist. 
Smoke wisped from the Thompson Hall elevator at 6:17 p.m., triggering the fire alarm and evacuating the dorm.
Campus Safety officers did not locate any fire, however, there was smoke on the first floor. The Los Angeles County Fire Department localized the source of the smoke to the elevator shaft, according to an announcement by Chief of Campus Safety John Ojeisekhoba. 
The Los Angeles Sheriff's Department received the report from Campus Safety at 6:26 p.m. and arrived on scene at 6:28 p.m. The smoke was caused by an electrical issue related to the elevator, LASD Lieutenant Jorge Marchena said.
Ojeisekhoba said in an interview that an elevator technician was called to confirm the cause of the smoke.  
"We want to absolutely make sure that occupancy is cleared for students to go back in safe," he said. 
Officers evacuated the students to the bridge leading up to the building and waited there for an hour as the fire department secured the building. Many students assumed the alarm was sounded by accident or was simply a drill. 
"The first thing that went through my mind was, 'Oh, this is another fire drill,'" said junior business marketing major Delaney Garland. "[After realizing it was real] I thought, 'Oh crap, I forgot my cat.'"
At 8:04 p.m., Thompson Hall's Resident Director Leo Cruz texted residents summarizing the night's events. Though both Cruz and Ojeisekhoba said that the evacuation is not likely to extend overnight, Cruz offered residents with the option of temporary relocation for the night at locations across campus. 
Though the technician was estimated to complete his inspection within the next three hours, some students have taken the precaution of finding another room for the night.
"Since Campo and Facilities [Management] are working late to determine if the source of the smoke was from the elevator," said junior cinema and media arts major Jon Asato in a text message. "As far as I know, no residents will be allowed to stay in the building. I'm taking a precautionary measure and seeing if I can crash with a friend, just in case."
[UPDATE]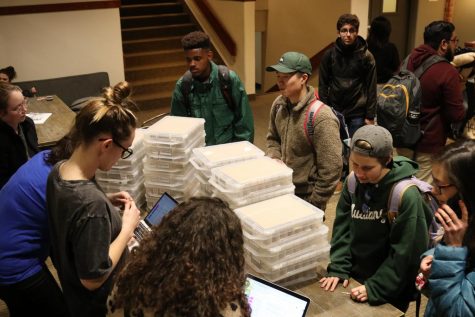 At 10:08 p.m., Thompson Hall residents received an email from Residence Life informing them that the source of the smoke was not the elevator and is currently unknown. 
To determine the smoke's source, Facilities Management has arranged for a fire safety specialist to conduct a more thorough inspection. The specialist is only able to respond to their request tomorrow morning, according to the email.
For residents' safety, Residence Life has provided temporary rooms in other on-campus dormitories. Students are able to visit their Thompson rooms from 10 p.m. until midnight to gather essential belongings before heading to their short-term relocations. 
In spite of the circumstances, junior English major Emily Bontrager is still thankful for Biola's quick response.
"They gave us rooms, so that solves that," Bontrager said. "Whatever happens happens. We'll see how things work out but I'm sure everything will be OK."
[UPDATE]
At 8:33 a.m. on Thursday, Feb. 6, Thompson Hall residents received an email from Director of Residence Life & Housing Natalie Berger informing them that an outside fire safety specialist had arrived on site and was inspecting the building. Berger said residents would be updated on the situation by approximately 10:00 a.m. 
At 11:12 a.m. Facilities Management and the fire safety specialist confirmed the source of the smoke, according to Ojeisekhoba. The electrical odor in the building was coming from a malfunctioning ceiling-mounted heating and air conditioning unit located inside of the first floor women's restroom. Ojeisekhoba confirmed that the unit had been repaired and students were cleared to return to their dormitory. 
At 11:39 a.m., Thompson Hall residents were alerted of those updates along with instructions on the returning of their keys, blankets and air mattresses borrowed by Residence Life from the night before through text.