Track and field competes at the PacWest Championships
Five Eagles earned All-PacWest honors at their conference meet.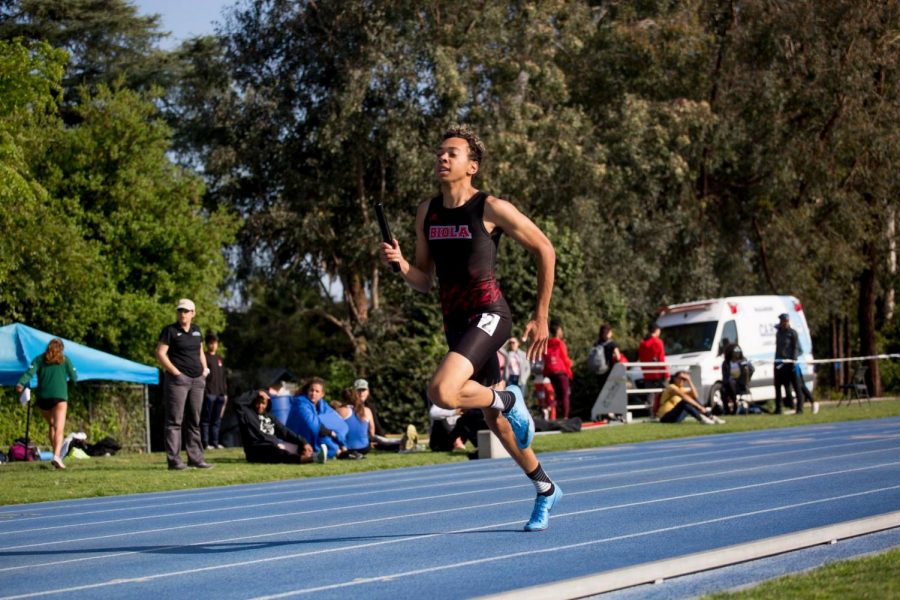 Track and field took to Azusa, California on Saturday to compete in a two-day tournament of the PacWest Championship. Junior distance runner Gabe Plendcio, sophomore thrower Anna Maumalanga, freshman middle distance runner Luke Sutherland, junior multi-event Nathaniel Belden and sophomore sprints and jumps Aaron Jackson all earned All-PacWest honors.
RECORD-BREAKING RUNS AND THROWS
The women finished in sixth overall while the men finished in fifth place. The Eagles racked up 70 points to add to last year's score.
Starting off strong for the women was Maumalanga who finished eight in the shot put at 11.12 meters and placed second in discus with a strong toss of 44.04 meters. The relay team of sophomore jumps Hannah Hubbard, freshman sprints and hurdles Sarah Ann Frank and freshman middle distance runner Shelby Rogers placed fourth in the meet.
The men carried the same energy of the women. Belden finished with a time of :15.23 in the men's 110 meter hurdles. Jackson finished third overall in the triple jump recording a 13.90 jump. Sutherland was the runner up in the 800 meter with a career best time of 1:54:19. Junior sprints and hurdles Corry Williams finished as Biola's second best in the 110 meter hurdles with a time of :15.46. He also finished eighth in the high jump.
The Eagles will head to Fullerton, California on May 3 to compete in the CSUF Titan Twilight Meet.
About the Contributor
Andi Basista, Sports Editor
Andi Basista is a junior journalism major who loves basketball, underground music and is highly appreciative of a good beach day.



Originally from a small farm town in Ohio, I have put aside my corn shucking gloves to embrace a new life in the Angel City to study sports journalism. It is true what they say about culture shock and LA traffic. I am used to being late to work because of getting stuck behind a John Deere tractor, but now it is because of gridlock on the I5. However, I have quickly...