Tim Burton gives "Dumbo" a new image
The classic Disney story returns to theaters with an entirely new look and a new plot.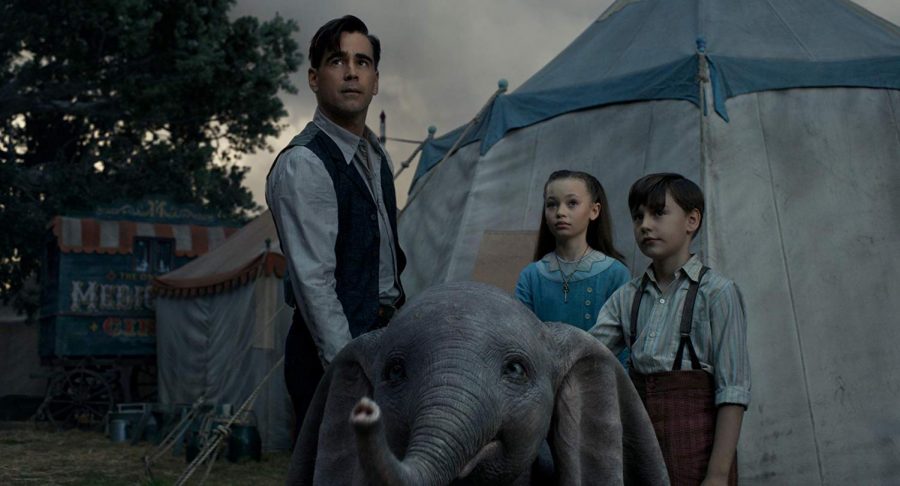 Director Tim Burton does not leave his unique, stylistic flair behind in his reimagining of the classic Disney film "Dumbo." Although he presents a new story to the audience, his live action remake of "Dumbo" contains elements that will have fans feeling nostalgic.  
NEW TAKE ON AN OLD STORY
Set in 1919, the film follows former equestrian performer and World War I veteran Holt Farrier, portrayed by Colin Farrell, and his children as they assist circus owner Max Medici, portrayed by Danny DeVito, in rebuilding his struggling circus. Similar to the original movie, Max finds hope for his circus when he discovers that their recently acquired baby elephant can use his massive ears to fly.  
Dumbo's fame transforms the circus into a larger-than-life amusement park known as Dreamland. From this point on, Burton's take on the story differs drastically from the original. Despite the success of this new entertainment venture, Holt quickly learns of the dark secrets lurking behind Dreamland.
While film remakes often aim to retell the original story in a different way, Burton gives "Dumbo" an entirely new plot. His telling of the story does not portray Dumbo as the protagonist, but rather Holt and his family, characters that were created solely for this remake. The beloved baby elephant is therefore lost as a side character and does not contribute anything particularly meaningful to the story.  
Burton complements the circus-themed story by conveying a message about avoiding animal cruelty. Despite the fact that his characters and plot do not have an extraordinary amount of depth, the message of the "Dumbo" remake is wholesome and enjoyable, with stunning visuals to accompany it.
BURTON STYLE
Burton is notorious for his dark, strange and often creepy stories, such as "The Nightmare Before Christmas," "Edward Scissorhands" and the 2005 remake of "Charlie and the Chocolate Factory." Despite "Dumbo" being a relatively family-friendly film, it is not void of Burton's iconic style and occasional disconcerting images.
Burton's reimagining of "Dumbo" is lively and colorful, with vivid scenes and lifelike CGI to make the imaginative circus and animals come to life. He finds a way to bring his infamous startling imagery into the generally charming film, whether it be through unsettling clown makeup painted on Dumbo's face or a dark and eerie room filled with scary creatures.  
Old-school fans of "Dumbo" will be able to appreciate Burton's acknowledgement of some iconic aspects from the original film. Some scenes in Burton's remake include imagery, music or dialogue drawn straight from the original film, with some shots that are shockingly similar to the cartoon. Even though Burton delivered his own distinctive twist to the timeless story, he provides fans with a taste of nostalgia and an enjoyable film.
About the Contributor
Lauren McBride, Arts & Entertainment Editor
Lauren McBride is a junior Cinema and Media Arts major who enjoys storytelling, thunderstorms, and a good cup of coffee.



I have loved all forms of art for as long as I can remember.  After taking art classes and developing a love for writing throughout my life, I eventually dared to dive into the world of film production.  Coming to Biola from my little bubble in Dallas, Texas, where I had lived my whole life, was a huge step for me, but allowed me to discover my passions more fully.

Being...