The Decemberists return with a blast from the past
Dive deep into a world of acoustic and comedic bliss with the band's latest album.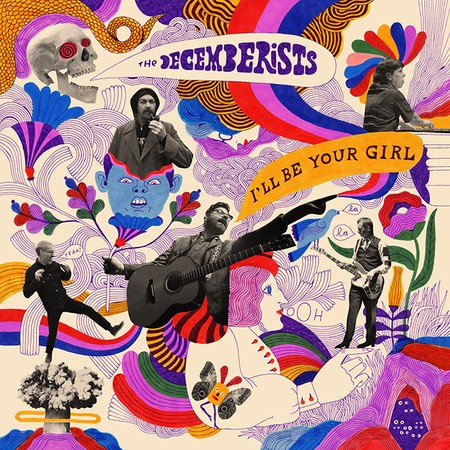 Hailing from the wonderfully quirky town of Portland, Oregon, The Decemberists oozes the nature-infused aura the state emulates. The indie folk rock group has been around for almost two decades now, and they have an impressive repertoire of up to eight albums. Their most recent album, "I'll Be Your Girl" dropped March 16. This brought about immediate buzz into the hearts of fans who had waited two years for some new Decemberists material to get their hands on.
OLD INFLUENCES
This new collectible of theirs houses eleven different melodies that flow into each other, blending into one beautiful outcome. The album opens on a bit of a surprising introduction with "Once In My Life" as it feels like a downer tonally. It seems to bring out your inner misunderstood teenager who could not help but be bogged down by their immense angst. The aforementioned angst carries on in the Paul Simon-esque tune "Cutting Stone." Interestingly enough, the talented members root themselves in old influences but use powerful, somber lyrics alongside synths to modernize.
The Decemberists have a special niche within their songwriting where they weave in comedic relief. The members seem to carry feelings of nostalgic heartbreak, but they also appear to deal with these messy emotions by writing them out in hilarious but dark humor that will either unsettle or completely amuse. They eloquently craft these stories of funny misfortune and cynical mentality in tracks like "Everything Is Awful" and "We All Die Young." In "Everything Is Awful," the listeners can truly feel the authentic and heartwarming comedy in what feels like a direct line of thinking straight from their songwriting selves.
BLENDING GENRES
The Portland natives also do a swell job of staying true to their folksy roots. The band falls between the genres of indie rock and folk, but the folk seems to ring loud and clear, often surpassing the points of rock. In "I'll Be Your Girl," they croon in what feels like a subtly country feel. The Decemberists never fail to include their beloved acoustic guitar, painting a clear picture of a past time.
"Severed" stars as the most current and unique track from their whole album. It has a very interesting air about it since it leans upon the '80s, but the musicality behind it feels somewhat modern as well. The electronic undertones even remind listeners of playing arcade games like Tetris and Pacman.
This band really represents a walk down memory lane, feeling somewhat out of place in this vibrantly pop-infused music era. Although their songs radiate something very disparate from what most young men and women lean towards, this works in their favor as a total breath of fresh air from the mainstream. Their beautifully woven songwriting impresses in a splendid and heartwarming way. It appears quite obvious why this band has had success for as long as they have, and with this album their notoriety can only grow exponentially.