Entrepreneurship Society flourishes
This past year, students have invited speakers to encourage entrepreneurs.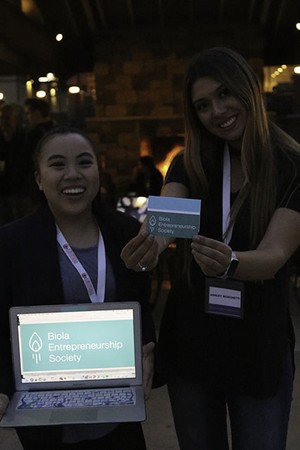 Every student knows the feeling of dreaming, and many students have acted upon their dreams, turning their ideas and passions into businesses, such as a cupcake company and T-shirt company. Unfortunately, many never turn their ideas into reality. For this reason, two students co-founded the Entrepreneurship Society last fall.
Senior communications major Elaine Fung and junior business administration major Ashley Moschetti decided to launch the Entrepreneurship Society to give students of all majors encouragement in their creative endeavors.
"We're about the awareness of entrepreneurship right now, so seeing that entrepreneurship is not just for business. It's in multiple industries. So whether it's like art, science, math, business, like everything," Fung said.
BRIGHT BEGINNINGS
While attending Praxis Academy last summer, a group of Biola students found themselves sitting together during lunch. From this conversation, they knew they wanted to create some sort of group for entrepreneurs. When autumn arrived, Fung and Moschetti attempted to turn their idea into a club, but after that got rejected, they sought advice from Robert Hartp, director of strategic initiatives at the Crowell School of Business.
"Dr. Harp has been just amazing. We couldn't have done it without him for sure. He has helped us make those connections with all these great business people," Moschetti said.=
By Harp's recommendation, they decided to take over the Fireside Chats. Crowell School of Business had hosted a few Fireside Chats in previous years, but handed over the planning to Fung and Moschetti this year.
FIRESIDE CHATS
For nearly every Monday evening, Fung and Moschetti have hosted prestigious entrepreneurs from all types of industries, such as the founder of Krochet Kids, the director of The GO Fund and the producer of the Zach King Team. Complete with catering and occasionally a worship service, the events take place at the Fireplace Pavilion, consisting of a Q&A led by Fung.
Fung and Moschetti wanted to bring in leaders with experience in order to give students a form of mentorship. Students can learn the tools they need in classes, but they need to hear the reality of the highs and lows of entrepreneurship, according to Moschetti.
"I think that probably has been my favorite part is seeing people's stories, and just that hope and that faith in our God and in who he is and seeing his faithfulness in other people's lives and then being able to trust him in my life," Moschetti said.
HOPE FOR EXPANSION
They have loved hosting the Fireside Chats, but hope to see the society expand to include more events. In the coming year, they hope to incorporate a Bible study and an entrepreneurship fair, similar to the Career Expo, to allow students to encourage each other in their creative endeavors.
"There's actually a lot of students on campus that have their own business or want to start their own business. So we would love to create a fair," Moschetti said. "So if you have a T-shirt company or you have your own band or whatever it is that you could kind of set up, and we would have a fair where people can walk around. And then you get to support local entrepreneurs from Biola, which I think Biola students do love to support each other."
The society has given both Fung and Moschetti a chance to pursue God through their studies. They have dedicated the endeavor to God from the beginning, ensuring the work they do would glorify him, not themselves.
"It's so cool that as Christians, we can be entrepreneurs and that can be a means to share the gospel by just showing them a better world," Fung said. "As Christians too, God is so big that all these different ideas could fit, and we don't have to be competitors and catty about it. We can celebrate one another."
Over the past year, both students have enjoyed the opportunity to cultivate a community of God-honoring creativity, and they cannot wait to see it flourish.
"At the end of the day, [the Entrepreneurship Society] is not mine and it's God's. And I'm really hoping that he would shine through this, that he would bring people together who want to serve him and make good businesses for him," Moschetti said. "So I'm excited to see what he does and see his faithfulness."