Soaring Stories: a life that resembles Christ's love
Garcia seeks to glorify God by loving on others through means of music.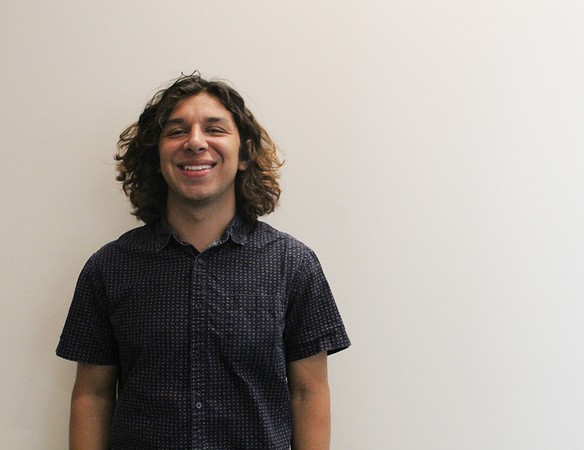 Q: WHAT IS YOUR NAME, YEAR AND MAJOR?
A: Kayton Garcia, freshman biblical and theological studies major
Q: HOW WOULD YOU DESCRIBE YOURSELF IN THREE WORDS?
A: Curious, Passionate, [at times] Confused
Q: WHAT ARE YOU PASSIONATE ABOUT? WHAT DO YOU LOVE DOING?
A: "I think as a whole, I'm really passionate about understanding people and loving people, but I think that shows in different ways in my life. I try to understand people and emotions and things like that through music, so I write music. I am also passionate about art and surfing as well. I think those are all ways that I spend time with people and express myself to people."
Q: WHEN AND HOW DID YOU START BECOMING PASSIONATE ABOUT IT?
A: "I was around a lot of different cultures and situations when I was younger. For the early years of my life, I was extremely poor, and coming from that background, it gave me a better understanding for people. And then coming out of that, I was also able to experience people that were the complete opposite of me—that they didn't have that much need, but learning how to love people in whatever situation they're in is something I started learning how to do in my life."
Q: HOW DOES YOUR PASSION MAKE YOU A BETTER PERSON?
A: "I think that it's always important for human beings to step out of their individual boxes and try to see things from other people's perspectives. It can clear up a lot of preconceived ideas about people and break down walls and help you progress as a person, but also help other people progress. And I think that my passion for people and discovering what they're like and expressing myself to them—and allowing them to express themselves to me—has definitely done that."
Q: WHAT WOULD YOU LIKE PEOPLE TO KNOW YOU FOR IN 10 YEARS?
A: "I want to reflect Jesus' character. I feel like that's definitely a cliché thing to say at a Christian school, but I think that a lot of times people, even at Christian schools, don't even know what that means, and I really do and I hope that everyone else has that desire. I want people to have a conversation with me and be able to have to think about it for hours after, wondering why that conversation was different than most."