Different dance styles unite as one team
Years of dance experience helped Candace Washington create and coach the Biola Spirit Program.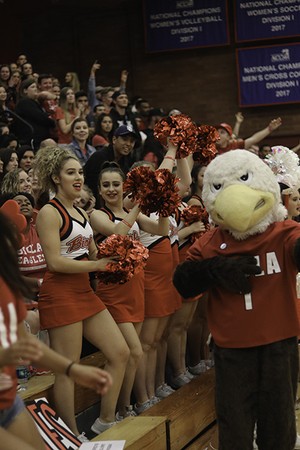 Director and head dance coach Candace Washington began building the Biola Spirit Program—formerly known as the Biola Dance Crew—back in 2013. What started from humble beginnings has grown immensely in the past few years.
"Just in the last three years, we've added cheer to that, which is why we have cheer now. And so this year, it's considered the Biola Spirit program to be able to recognize all the teams involved," Washington said.
PROGRESSION OF BIOLA SPIRIT
With interest in the dance team peaking, Washington noticed a desire among student dancers for a cheer division. She shared that her background as a Biola student dancer led her to empathize with the interest she observed. So, when students came to her asking if she would lead a cheer component to the team, she agreed.
"I had a lot of questions coming, saying, 'Well, can you coach cheer too?'" Washington said. "Thinking of myself as a student at Biola, not always having somewhere official [where] we could dance and represent the school… I personally felt obligated and thought it would be a cool opportunity for those students to have a platform as well."
While Washington desires for the dance team's impact to center around a love for Christ and reflecting that love through dance, the competitiveness of dance requires more involvement in events.
"My goal was to make the dance team a collegiate team that could be representing Biola and the ministry of dance, but also being able to represent the team in athletic events performing, and eventually do more community outreach events, which we're working on for next year," Washington said.
A LASTING IMPACT
Sophomore communication studies major Tatum Plyler found more than just a group of girls to dance with when she joined Biola Spirit. As an out-of-state student, she confidently calls her dance community a second family.
"It's definitely something that's bigger than just cheering at games, because when I came here new from out of state, it was like a family thing," Plyler said.
The care Washington extends to the dance team spiritually and emotionally does not go unnoticed by the dancers. Senior elementary education major Kailani Reigh noted that Washington spends individualized time with the dancers as a way to express this affection.
"Candace does a really great job of making sure God is involved in this process," Reigh said. "One of the big things that she does, is towards the end of the year, she has one-on-ones, and so she meets with everyone."
The spiritual aspect of Biola's culture extends to the dance team as well. Plyler recognizes Washington's heart for blending faith and dance into an cohesive mix, and feels spiritually benefitted as a result.
"I definitely think this year, even more than last year, has been a lot more God-centered and family-oriented, just because, I feel like she tries even harder to bring us together and pour into us spiritually," Plyler said. "I think I wouldn't be the person I am without her, because she is such a mentor to all of us."