Soaring Stories: friendships spark interest
Dammann shares how meaningful bonds lead to exploring new hobbies and interests.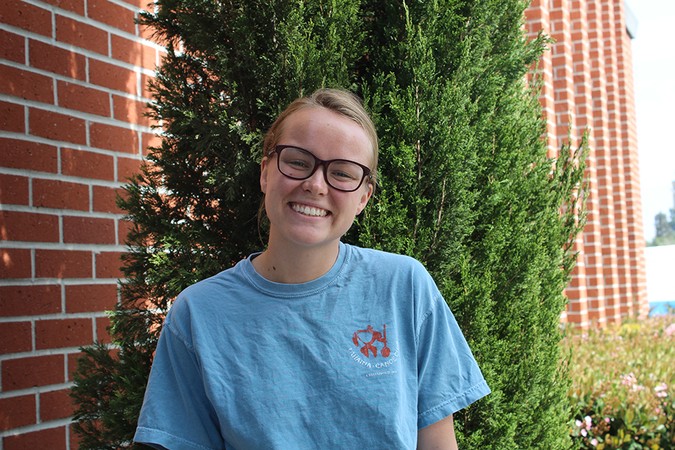 Caitlin Blackmon, Features Apprentice
April 3, 2018
Q: WHAT IS YOUR NAME, YEAR AND MAJOR?
A: Samantha Dammann, senior journalism major.
Q: HOW WOULD YOU DESCRIBE YOURSELF IN THREE WORDS?
A: Hardworking, Grateful, Excited
Q: WHAT ARE YOU PASSIONATE ABOUT? WHAT DO YOU LOVE DOING?
A: "Lately, I've been really passionate about going outside. I was a swimmer my whole career here, so it keeps you on a really tight schedule. And now that swimming's done and I'm moving into a season where I'm not a collegiate athlete anymore, I'm exploring what it'd look like to have free time. And so I've been going on some hikes with friends, and going to the beach more, which is really fun."
Q: WHEN AND HOW DID YOU START BECOMING PASSIONATE ABOUT IT?
A: "I think a lot of the things I'm passionate about come from the people I'm friends with because we all have our own interests. But then, when you build friendships with people, you learn about their interests, and they kind of bring you into their own world. I have phases where for a couple of months I'll be really interested in something, and then a couple months later, it'll change to something else. And I think a lot of that has to do with the relationships we have with people and the experiences we have with them."
Q: HOW DOES YOUR PASSION MAKE YOU A BETTER PERSON?
A: "I think for any passion, it's just a person being excited about a specific thing. And I think excitement is a positive emotion, because it makes you interested in doing something or living another day. So I think anything that makes you interested in the world around you or the people around you, it gives you greater interest in the life you're living."
Q: WHAT WOULD YOU LIKE PEOPLE TO KNOW YOU FOR IN 10 YEARS?
A: "I think we all have memories of people, where you talk to them and you leave and you're just like, 'Ah, I feel like a lesser person,' or, 'I feel self-conscious after talking to them.' I have memories of a couple people I've known throughout my life, where every time I talk to them, I left not really self-conscious, not really thinking about anything, but just content in who I am. And I wanna be one of those people that, when someone leaves a conversation with me, they feel valuable."