Student Care meets student needs
Life presents problems, and Student Care helps students work through issues they may face.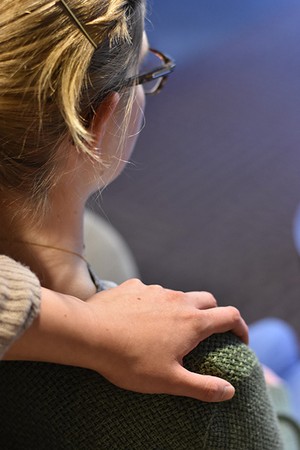 The misconception that Student Care only comes in when students go against community standards disregards its purpose of helping students navigate through a number of issues, including roommate conflict and mental health.
STUDENT CARE AT ITS CORE
While the severity of the issue differs from student to student, coordinator of Student Care DeAnn Decker shared that the goal of this program primarily involves the growth of the individual.
"No matter what the issue, whether it is emotional or disciplinary, we want to be developmental and lead students towards greater health so they thrive here and beyond Biola," Decker said.
The first step in this process involves a Resident Director, according to Alpha West RD Sarah Brown. Students agree to hold to community standards when entering the Biola community, and failure to uphold these standards breaks that commitment.
"When community standards are broken, the first event is an RD that comes in," Brown said. "We really view the community standards as something that is a piece of binding us together as a community, and as a part of your integrity, you're saying that this is something that you're about."
Decker clarified that active sanctioning allows students to walk alongside a faculty member and identify desired areas of growth, while inactive sanctioning includes disciplinary matters, such as probation. Student Care maintains a balance between the two, seeking equality for all students while upholding Biola's standards.
"We desire to be consistent in our responses to students who have violated community standards, while still individualizing them and their unique stories," Decker said.
BEYOND DISCIPLINE
Junior intercultural studies major Autumn Ayers shared her idea of what Student Care may look like, considering the type of community Biola maintains.
"I would expect a great deal of empathy and care and consideration given to the students," Ayers said. "And maybe more kindness and personableness than another institution, but also a commitment to virtue and ethics in the student body in a place where a universal moral standard is upheld."
Contrary to popular belief, Student Care functions to serve a wide variety of needs, rather than acting solely in a disciplinary manner. Decker's role focuses on guiding students dealing with emotional or mental health issues to available resources throughout campus, including the Biola Counseling Center and the Health Center.
"Emotional care can range from anything to homesickness and loneliness, to anxiety or depression," Decker said. "We are available and want to support students emotionally even if it hasn't reached a high level of concern."
The focus goes beyond just discipline, but straight to the heart of the matter. Those overseeing this transformative process want to help students move toward goals that will allow them to move past the problems they face.
"Our approach really is to be with you and to provide support and we're asking you to kind of meet this standard, and then say, 'How do we support you to do that well?'" Brown said. "We want to build ladders so that you can actually achieve this."