A Q&A with Todd Guy
Get to know the future School of Fine Arts and Communications dean.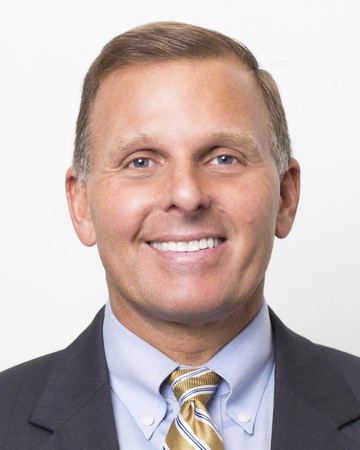 Q: WHAT'S YOUR BACKSTORY?
A: "I did my undergraduate work at Marion College, and while I was there, I studied church music, music education and applied voice… Then went on and got my master's at Northwestern University in Chicago. I knew that I wanted to either teach at the collegiate level [or] conduct at the collegiate level, and so I knew that the master's was the next step in doing that. Then my mentor at Marion College decided to go work on his doctorate. He asked me to fill in for him in an interim position for a year there, and he never came back. I stayed there for several years… I tell everybody I've been on a one year contract for thirty plus years at Indiana Wesleyan [previously known as Marion College]… I finished up my doctorate in choral conducting at Ball State University there."
Q: WHAT MADE YOU LOOK INTO THE POSITION AT BIOLA?
A: "I've been chairing the division of music for the last 15, 16 years, and then was asked to be the interim dean for the school of arts and humanities here at Indiana Wesleyan, which the division of music is part of. For the last two years, I've been serving as the interim dean of the school of arts and humanities.
"The Biola position had come across my desk, and I thought, 'Man, it would be so interesting to move back to California for the last chapter of my teaching and such." I didn't really think about it until the search firm called and I said, 'You know what, I'm in the process here, and so I'm really not interested.'… After a couple other calls from the search firm, I said…, 'If the doors keep opening, Lord, I will walk through those doors and will just continue to walk through.' I'm very happy I did Indiana Wesleyan. It's been a great chapter of my life here. I've developed some strong programs, got a wonderful touring ensemble and such, but God doesn't always call us to be comfortable. He calls us to be obedient… There was confirmation after confirmation in so many ways that we should go to Biola."
Q: WOULD YOU TELL ME A LITTLE BIT ABOUT YOUR FAMILY?
"I'd love to. I've got one wife. Lisa and I actually met in college. She was an alto that sang in the choral, and she stood in front of me and I always tell people I liked what I saw. So she's wonderful.
"We have three children, lovely children. Our oldest is Elizabeth, and Elizabeth is married to a young man who is a worship arts director in Michigan. They have two lovely children: Isaiah and Solomon. And Isaiah is nearing four and Solomon is nearing two. And we just love our grandkids. There's nothing like being grandparents.
"Then my son Matthew, our only boy, the middle boy, is married, and he and his wife live and work in Indianapolis. They're a wonderful young couple and doing some wonderful things in their profession. Then our daughter Hannah is a sophomore here at Indiana Wesleyan. She's a psychology major, and she's actually getting married this summer to her high school sweetheart."
Q: WHY WOULD YOU SAY THAT THE ARTS AND COMMUNICATION ARE VITAL FOR PEOPLE PURSUING THE KINGDOM OF GOD?
A: "God allows us certain avenues to connect with him, and I believe that these disciplines are a conduit that we're able to not only understand ourselves better in our relationship with Christ, but also, it's that conduit, it connects us, helps us to draw a deeper relationship with him. He's given us gifts and abilities in these areas, and as stewards, we're to develop those."
Q: YOU HAVE LIVED IN CALIFORNIA BEFORE, HOW IS THE DIFFERENCE BETWEEN WHERE YOU LIVE NOW AND CALIFORNIA, AND HOW DO YOU FEEL ABOUT MOVING BACK?
"Indiana's great. The people are wonderful. In fact, that's what we'll miss the most about moving to California. We're excited about the relationships that we'll be developing in California, but after you've been at a place 30 years, you do have some roots that go deep, and you have relationships that go deep. So we'll miss that, those face to face relationships.
"Obviously, the climate is wonderful. We always ask ourselves in January, February and March why we're here in Indiana, why we ever moved back because literally we don't see the sun from about December to March. There might be one or two days where we'll get a peek of it, but otherwise it's very dreary, very overcast, and that's why I say you have wonderful relationships because you don't do a lot of things outside.
"We just loved the climate, loved the lifestyle [of California]. I love the eclectic food opportunities. I love the diversity of culture and things like that. And so we're really excited from that standpoint."