Flags stand for identity and pride
Four students share what the flag ceremony means to them.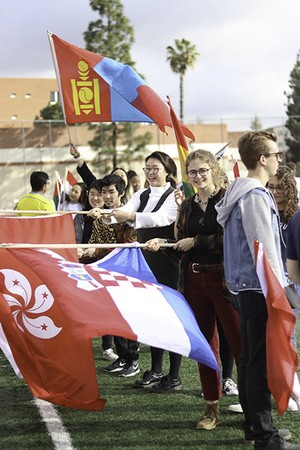 "Cameroon," a man calls out on stage. Seconds later, a flash of green, red and yellow flies past the crowd as a red-headed girl runs flag in hand with a smile on her face. The running entourage continues down a list of countries such as Croatia, Japan and Jordan. Soon every country called joins together to wave their flags in sync.
This is only a part of a beloved ceremony that testifies to the diversity of Biola, to all the countries that the gospel has reached and to where the gospel must still be sent. The opening of Missions Conference gives the audience a glimpse of Revelation 7:9, where "every nation, tribe, people and language" will worship God in heaven.
While this ceremony symbolizes Christianity globally, it also contains another meaning for those holding the flags. Whether that means pride for their country or confirming identities, these flag holders represent their culture, past experiences and the present.
CAMEROON
Sophomore kinesiology major Maureka Santos grew up in Cameroon and lived there from age two to 18. Her family worked as missionaries, and she considers it her home. Santos reflected on holding the Cameroonian flag and came to the conclusion that appearances are not always what they seem.
"For me it helps me reconnect with my life there, and is symbolic of that part of me," Santos said. "A number of people know that I'm from Cameroon, and so it's really cool for me to carry it and to represent it and to show people that it's more than just what I look like because I don't look Cameroonian. I'm white with red hair. I look very non-African, but it shows that there's more to my story than what people might see."
CROATIA
Sophomore physics and engineering major Nina Vuletić lived in Rijeka, Croatia from nine to 15 years old, where her family served as missionaries. As half Croatian, she found it interesting to hold the Croatian flag in America. The only other times she had seen the flag were on people's houses or during soccer season in Croatia. Vuletić felt honored to hold the flag in this context.
"It was really special to me, because just from looking at me people don't know I'm Croatian," Vuletić said. "They don't know that I've lived somewhere other than America, and they don't know that I speak another language and I have other family somewhere else. So being able to hold it and have a physical representation of the other side of myself was really special."
JAPAN
Junior cinema and media arts major Emily Inaba is a first generation American and full Japanese. However, she also lived in Japan during high school. For Inaba, holding the Japanese flag meant understanding her identity.
"For me, it just shows that every person who holds a flag isn't necessarily a stereotype of the country," Inaba said. "Honestly, it's a very personal thing for me, because for so long I struggled with knowing and understanding my identity, but being able to run the flag means that it's just like a stamp of, 'Oh, I am Japanese and I'm proud.' I'm just super honored to represent it."
JORDAN
Sophomore sociology major Donna Eissoh is Jordanian and lived there for 14 years before coming to high school in the United States. Eissoh loved representing Jordan at such a large event on campus.
"This is the second time I [did] this," Eissoh said.  "I feel like holding the flag and representing your country is something that is so good to do for you as a person and also to show people that, no matter where you go, you're still prideful of your country and your heritage. Because I think that's something that a lot of people are trying to push away from, or some people wouldn't even want to recognize as something they want to do."
EVERY NATION
As the flags wave across the gym, each person has a different reason for holding it. Maybe their family comes from that country. Or, perhaps they went on a missions trip there, and it impacted their life. The flags ultimately show how culture shapes each person and impacts the way people do missionary work.
"There's something special about having all those flags there, where you can be proud of your country and what you're representing, but it's also not an overpowering pride where like that's not where my identity really is," Vuletić said.  "And how we were all able to be there together, because all of our identities are found in Jesus and that's what allowed for that space to have all those countries represented."