Human trafficking affects Biola
Students felt a desire to fight against human trafficking after hearing a fellow student's story.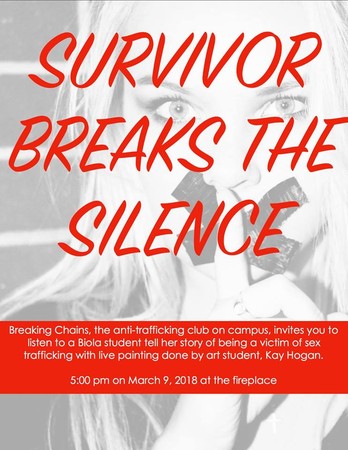 When hearing about human trafficking, it can feel distant, unreal or simply like another horrific statistic in a darkening world. Rarely does it seem to affect those on campus. It became real for many students on March 9.
Current student Jane Doe* shared her story of living in human trafficking to raise awareness at an event hosted by the Breaking Chains Club, and students felt a need to respond to the issue of human trafficking.
"I was actually present when she first shared publicly at a club event, but that was a while ago… [That event] really kick-started my interest in anti-trafficking efforts and made the issue much more personal for me—having someone that I know who has been through this—and it was no longer just sort of an intellectual [problem]," said Adam Wagenet, a prior student and attendee at the event.
A small crowd gathered around the Fireplace Pavilion, munching on snacks. While an artist painted, the crowd listened in a shocked silence as they heard the heartbreaking yet hopeful story of their fellow student's torture, pain and road to recovery.
"People need to know that they have fellow students who have been through hard things like this," said Alyssa Miller, club president and junior music performance major. "You never know how much a person has gone through until you really ask, and you really sit down and listen to their story."
The student pointed out that people should realize everyone has endured difficult things and has a story, and that one should never assume what another person is currently enduring. Many share classes with this student and may have never guessed the trauma she endured until she shared her past.
Breaking Chains seeks to bring awareness about the presence of human trafficking all around the world—including La Mirada—and to give survivors a platform to share their stories. The club hosted the event specifically to show students how human trafficking has affected even Biola students and to encourage students to respond with intentionality, according to Miller.
"I'm not asking you to sell all your possessions, to go move to a third world country and fight trafficking. I'm asking you to pray. I'm asking people to pray for survivors who are here in our city. It happens on the Irvine spectrum, it happens on Beach Boulevard. It happens here," Miller said.
The event impacted students by highlighting the reality and brutality of human trafficking, and sparked a desire in some to become educated on this issue and on ways to advocate.
"I know [her message] impacted me, and I really hope it was the same for everybody here," said Noah Styffe, freshman undeclared major. "I wasn't aware of the significance of human trafficking, and hearing it just, personally, was very shocking. You know, it made me want to do a lot of research personally because that's something that's happening around me and I'm not aware of it."
*Due to her own personal safety and the sensitivity of the subject, this student wished to remain anonymous.