Paul Martin speaks about philosophy, music and politics
Q&A with a Talbot graduate running for office in which he describes his exciting life.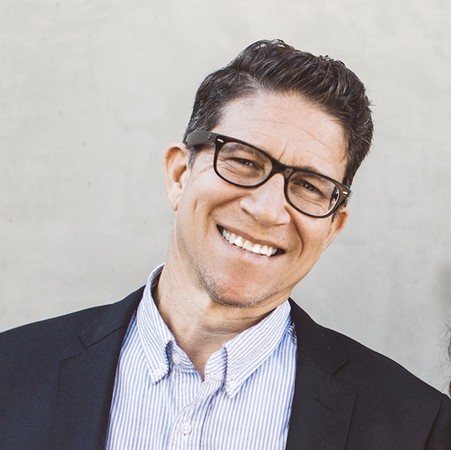 Paul Martin, who received a masters degree in Philosophy of Religion and Ethics from Talbot in 2008, has worked in a number of different fields, including the Christian music industry and church ministry. Now he plans to run for the United States Congress in November.
Q: TELL ME A BIT ABOUT YOUR JOURNEY AFTER YOU LEFT BIOLA.
A: "My journey has been very vibrant and diverse following Biola, or actually toward the end of Biola. Robert Schuller Sr., the founder of the Crystal Cathedral and the Hour of Power, heard about some of the interests I had in philosophy and religion and ethics… and I ended up being his consultant for two years, where I helped him gain a deeper understanding of philosophy of mind, and particularly that and in the intersection of religion and science… We worked with the John Templeton Foundation, and the idea was for him to use his international influence to help people who were atheists or just not into the religion thing to actually consider religion as a viable kind of way of living or thinking. So I did that for about two or three years. I then went to plant an Anglican church in Orange County in Costa Mesa, California, where I served as executive pastor, and the church was called Holy Trinity Anglican Church. It's still there, and it's this vibrant, amazing church. I helped get that going and then was recruited to work for the March of Dimes, where I served as a senior director of really fun development, helping them to raise money in Orange County to help mothers and infants with issues with pregnancy and abnormalities… Then I went to work for one of Orange County's largest homeless prevention agencies, Family Assistance Ministries, where I served as a director there. So I kind of jumped around a bit, but it's all dynamic and amazing work."
Q: IN YOUR EMAIL YOU SAID YOU DID A BIT OF WORK WITH CHRISTIAN MUSIC AS WELL. COULD YOU DESCRIBE THAT FOR ME?
A: "I grew up in the Anaheim hills area, and I grew up Roman Catholic. In my teens I had a, I would just call it a significant experience with God… I started attending a church that met at my high school, and the name of the church was the Vineyard at Canyon High School in Anaheim Hills… Today the company or organization that came out of it is called Vineyard Music, and churches all around the world are singing vineyard songs… To make a long story short, I had played bass guitar at Crystal Lewis' first band. I started helping them out a bit, and before long, I had kind of a high level position with them, helping develop their distribution and publishing around the world. That was in my 20s and into my 30s. I moved to London to start their European operation, and there we started publishing the first Vineyard music albums out of the U.S. The first album we published had songs like, "Come, Now is the Time to Worship" and "Lord, Reign in Me," which were two original songs that I was the executive producer on. It was amazing and it was a blessing, and so I worked for the Vineyard for about a decade.
Q: HOW DID ALL OF THOSE INTERESTS LEAD YOU TO BECOMING INTERESTED IN POLITICS?
A: "Never along my career was I thinking I was going to run for public office. I thought I would do the work of the kingdom in ministry in one way or another, whether it was pastoral ministry of working with young people or homeless, but I started a blog. I met some kind of national bloggers and in 2015 I started a blog that was very much a stream of consciousness blog… And then Donald Trump got in the race in late 2015… I was awakened by many of the things that he was standing for, and so I started to write very honestly about some of his comments… And eventually someone found me, if you will, who was in D.C. and who worked for a former president and reached out and said, 'I would really consider running for Congress in your district… You're a Christian, but you're a Republican. But I'm a Democrat, and I would vote for you.'"
Q: WHAT HAS YOUR CAMPAIGN PROCESS LOOKED LIKE SO FAR?
A: "We just started putting things out on Facebook and Twitter and Instagram in November, and we just wanted to see what the response would be because you have to have money come in, you have to have journalists paying attention… At this point now we have registered with the FEC, we have a campaign manager, we have money coming in incredibly to our surprise, daily, sums of money and volunteers stepping up.
Q: HOW HAS YOUR FAITH AND THINGS YOU LEARNED AT BIOLA INFLUENCED YOUR CAMPAIGN?
A: "I am so grateful for the people…The backbone behind it all was this idea that you know, 'We are rigorously Christian, and we rigorously have a vision to influence the world for Christ,' and that can happen in so many different kinds of ways. And that was always prevalent in every class that I took and so I would say that my education there was formative to what I'm doing today."
Q: WHAT ADVICE WOULD YOU GIVE TO STUDENTS INTERESTED IN POLITICS OR MAKING SOCIAL CHANGE?
A: "I think the most important thing is to have genuine respect for people who think differently… It's [also] important to educate ourselves about our founders and what they were trying to come up with when they put together our Constitution. They were not trying to create a theocracy. They were trying to create something that was not a theocracy having come from countries with theocratic governments and so I think it's really important to embed oneself in the Constitution and in the writings of our Founders."