Benavides advocates for the community of Santa Ana over his lifetime
As executive director of KidWorks, Benavides helps youth advance towards their futures.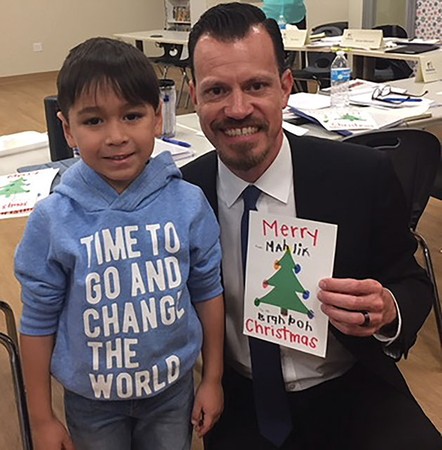 David Benavides, executive director of the non-profit organization KidWorksand Santa Ana councilman, has had quite a journey since he attended Biola from 1994 to 1999.
Q: YOU WERE THE FIRST IN YOUR FAMILY TO GO TO COLLEGE. WERE THERE ANY STRUGGLES YOU FACED WHILE ATTENDING BIOLA?
A: "I definitely experienced culture shock when I first came in from a few different stand points. One is the college experience. There was nobody in my family that had gone before me, so I didn't know what to expect. It was a significant transition being on the campus, the level of courses, being away from a familiar environment, my whole community and culture as well. East LA, where I grew up, it's predominantly Latino, and I'd never been in an environmental situation where I was a very pronounced ethnic minority."
Q: ARE THERE ANY FOND MEMORIES YOU HAVE OF YOUR TIME AT BIOLA?
A: "One of the ones that comes to mind is having been in a community that's predominantly Latino coming to a new environment, I was able to make friendships with people of various ethnic groups, cultural backgrounds. …  I was part of recipients of the, at the time it was called S.U.R.G.E. scholarship, a scholarship for Students of Underrepresented Groups of Ethnicity. I was a recipient of that scholarship and as a recipient of that scholarship, you participated in a program called Cultural Encounters for the first year.
"We got together regularly to talk about issues of culture, and what we learning about others and ourselves, how we adjust in a new environment.… That sense of community and those cultural friendships that I specifically value."
Q: HOW DID YOUR INTERNSHIP WITH KIDWORKS LEAD TO YOUR EXECUTIVE DIRECTOR POSITION? BASICALLY, WHAT IS YOUR KIDWORKS STORY?
A: "I learned of KidWorks through a friend that I had made at Biola, who had been an intern with KidWorks the summer prior. I interned with KidWorks in the summer of '96 after my sophomore year…. At the time, KidWorks had recruited Christian college students to move into a couple of intercity neighborhoods to mentor in groups in those neighborhoods to do incarnational ministry, so having grown up in East LA I could relate to the intercity.
"Initially, it was another eye-opening experience for me, moving to a neighborhood that was even more challenging than the neighborhood I had grown up in in East LA. First, I wasn't sure that I had made the right decision to move into this neighborhood. By the end of the summer, I felt like I couldn't walk away from that. … I went back to Biola after that summer, but I came back every chance I got after classes, on the weekends to continue to study with the teen guys. …. After my junior year, I joined the KidWorks staff part time while I finished at Biola.
"Then, in 2002, I moved on from being on staff with KidWorks, and I joined the board. I moved on to work on a church-plant. I worked on that for a couple of years, but it didn't end up taking off. I went to real estate and did real estate for a number of years."
"In 2006, after being in Santa Ana, after being in a neighborhood ministry for many years, the council member for our district was turned out. There was an opening on the city council, and people encouraged me to think about running for that. I hadn't really thought about politics before then, but it felt like part of what God calls us to, to be advocates for those that might not sometimes have a voice themselves.
"I ran for office in 2006 to be the representative of District 4 of Santa Ana, the densest district and highest concentration of working families and lower-income levels and lower education. Working with the community to bring about more investment, more support to give a voice to those families in those neighborhoods.
"In 2014, the executive director of KidWorks at the time had announced to the board her retirement from the executive director role. I was on the board at the time, and a couple board members asked me to consider putting my name to be a part of the search process. To be considered to come back, I prayed about that and I thought about that, and I did. In 2015, I was elected to be the executive director of KidWorks, and it came back full circle in several capacities.
Q: WHAT ARE SOME LESSONS LEARNED IN YOUR PROFESSIONAL LIFE THAT WOULD BE HELPFUL FOR STUDENTS?
A: "God gives us the opportunity to join in in what he's doing. Part of my consistent prayer is, 'God show me what you're doing and lead me to join you and give me courage also to make bold decisions.' Whether it's in the boardroom, whether it's out with the community, just really asking and looking for what he's doing and joining him. Seeing that everything we do, whether we're a school teacher or a businessman, whether we're in politics, we're being lead by him."