Here come the Biola brides
Wedding bells ring and engagement rings sparkle on campus this fall.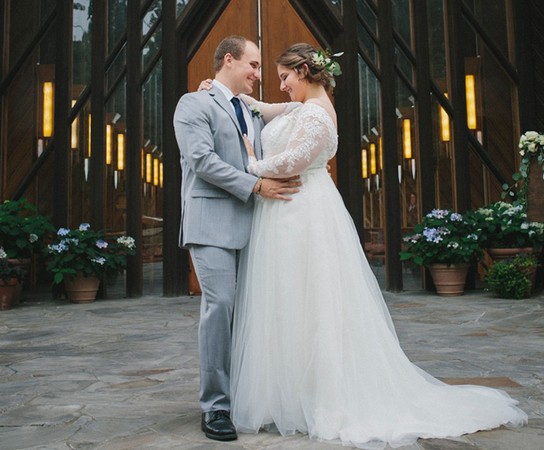 From spring "I do's" and a winter wonderland wedding to a ceremony planned for two days after graduation, three couples all took the next step in their relationships.
DANIEL MESSICK AND HANNAH WHITE
Sophomore intercultural studies major Daniel Messick proposed to Hannah White without a ring at the spot where they officially started dating on April 19, 2016. After praying for a while, Messick knew the time had arrived. He also knew that his bride had specific tastes and would want to pick the ring herself. She said yes, they bought the ring and looked forward to their wedding day on June 25, 2017.
Messick's wife, Hannah, did most of the planning for the wedding while attending a college in Missouri. During that time, she took 18 credit hours of classes, held leadership positions in two clubs and worked 35 hours a week.
"If I were ever to get stressed out about anything, it would be school," Hannah said. "I just knew that God's hand was on the wedding and that it was ordained by him. So whatever happened it would all come together."
The couple enjoyed their big day at a botanical garden just outside of Kansas City. The ceremony, in a small chapel right on the waterfront of a small pond, included close friends and family.
"It was just the most surreal thing I have ever experienced—standing up on the altar watching Hannah walk down the aisle just felt like a dream," Messick said. "Like it wasn't real but it super was. It was incredible."
KAYLEE BANKS AND RYAN PIERCE
Senior business major Kaylee Banks got engaged to her now husband Ryan Pierce at the Woodland Park Zoo in Seattle, WA on Dec. 21, 2016. It was a special night as her best friend was there as well, and the Woodland Park Zoo is her favorite place in the world. They stopped for a picture at the arch in front of the zoo, and he proposed.
"He gets down on one knee, and he was like, 'You know what it is!'" Banks said. "I was like, 'Stop,' and I started to walk away, because he's pranked me before by fake proposing and so I started to walk away, and he had to grab me and be like, 'No, no, no. It's for real, I want to do this.' And I was like, 'Yeah, sure.'"
In an unlikely winter wedding, the two were married 10 months later on Oct. 22 in Leavenworth, WA. Banks had always wanted a winter wedding, and to her surprise, she got one. The couple planned to have the wedding in the fall because they got married on a mountain and driving conditions are unsafe during the winter. Just as they arrived it started to rain, and then snowed until the couple made their grand exit. The wedding ended with a huge snowball fight, which was the highlight of Banks' night.
While she completed most of the wedding details during the summer, other plans remained a bit stressful as they happened during the semester. When she needed help in planning, she got her mom or her aunt to do things for her.
"If you're going to plan a wedding, when you're in school, you really need to delegate, and you need to find people who are trustworthy and dependable and who know you and you're tastes," Banks said.
HANNAH MORRIS AND NICK MUTCH
Senior Christian ministries major Hannah Morris was surprised by senior public relations major Nick Mutch on a Thursday in late September with a drive to Sunset Beach after class. When they arrived at their favorite spot, a trail of roses led down to the water where a sign read 'Hannah, will you marry me?' As soon as she said yes, about 40 of their closest friends and family ran towards the couple to celebrate with them.
The two enjoyed being engaged for the first couple of weeks and started planning in October. The couple decided on May 6 for the wedding date, two days after spring graduation, because they have both found jobs in Northern California amidst the wedding planning and engagement. They have also decided on a venue in Oak Glen with a more inclusive package, making the planning a little easier.
"Marriage is such a beautiful thing, and it can be so easy from what I've witnessed or heard that you can just get caught up in all the wedding details while you're being a student," Morris said. "As a bride, it's just a lot of bliss that's come with it. There's been challenges, but nothing that has overtaken the joy of thinking of becoming husband and wife."