The RA position pays off
Biola RAs' jobs do not pay as well as others, but provide worthwhile experiences.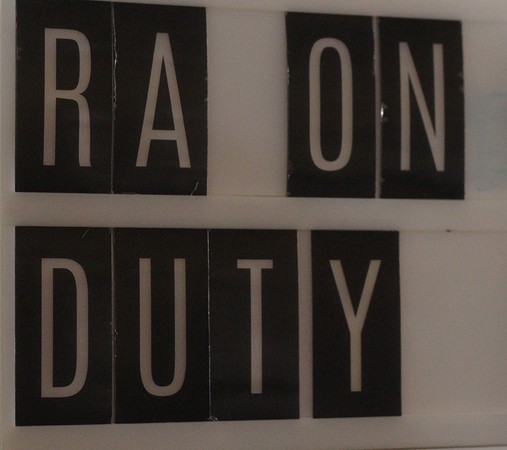 On every dorm floor lies a hierarchy among peers: regular residents residing underneath the guidance of a Resident Advisor. An RA gives up hours upon hours of his or her semester to ensure the safety of their students and the obedience to the rules they guard. At Biola, the RA job requires an even more intense commitment as the RA can stand as a spiritual mentor, community builder and disciplinarian.
EXPERIENCE OR PAY
With such a taxing job, some wonder if the benefits warrant the work an RA performs. While most RAs agree the compensation they receive does not match the hours they work, they consider the experience and the growth they gained from the position enough of a benefit for the job to prove itself worth the effort.
"It can feel like a lot to carry at times as a student. These are your friends and your peers and so it can feel a little tricky at times to hold both of those pieces at the same time, but I think that's real life… learning how to balance those things together," said Jake Negy, alum and previous Horton RA.
PRIVATE SCHOOL RAS
At private Christian schools, the job of an RA tends to require more work than that of other schools because of the added pressure of spiritual care and a specific code of ethics. A different aspect of the Biola RA position is the low pay, though many RAs said they did not care nor pay too much attention to the finances of the position.
"I'm always busy and always have work to do, so when it came to RA, it just felt like living normal life for me and that was just getting paid to live normal life, engaging and doing things," said Sam Hammer, previous Stewart RA and senior biological sciences and chemistry major.
OTHER SCHOOLS
Compared to the compensation received by RAs from other private schools such as Seattle Pacific University, Westmont College and Calvin College, Biola lacks in payment for its RAs. While Biola RAs are paid about $4,800 for working approximately 12 hours a week, SPU, Westmont College and Calvin College give their RAs a scholarship for free room and board. SPU realizes that they do about 15 to 20 hours of RA work a week, while Calvin College RAs do about three hours.
"We provide them a stipend of about $385 for coming back early to help supplement some of their food," said Shannon Balram, director of Resident Life at Westmont College. "So that's a stipend, but they get sort of a scholarship through our financial aid, and that covers the cost of their room, which is about a little over $8,000."
Though there is a stark difference in compensation between Biola RAs and other private schools', few Biola RAs complain since the salary and job description were already listed on the Residence Life page before they started the job.
"Oh, was it worth it? Heck yeah… I would say it's definitely helped with jobs, definitely helped with me understanding myself better," Hammer said. "Yeah, I think it's done a lot of good things for sure. Definitely worth it. Is the pay worth it? Sure, like, honestly, I didn't think much about the pay because life and work were so intercombined."