Soaring stories: music for the soul
Beka Revelle shares that music makes her happy and inspires her writing.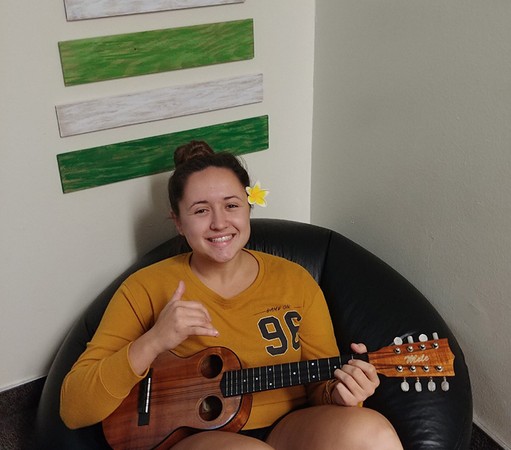 Q: WHAT IS YOUR NAME, YEAR AND MAJOR?
A: Beka Revelle, sophomore accounting major.
Q: HOW WOULD YOU DESCRIBE YOURSELF IN THREE WORDS?
A: Energetic, Overthinker, Hardworker
Q: WHAT ARE YOU PASSIONATE ABOUT? WHAT DO YOU LOVE DOING?
A: "Definitely passionate about music, probably more than anything—music and writing poetry and writing in general…. I love playing my ukulele and singing, and all the things I'm passionate about I love doing basically. And I also really like finding new music, and I really like going to concerts, so everything music."
Q: WHEN AND HOW DID YOU START BECOMING PASSIONATE ABOUT IT?
A: "I think it came from me playing ukulele. I learned when I was in sixth grade, and then I started writing songs, super middle school songs. I started learning how to play, and in high school I wrote more songs. So I liked writing music and playing ukulele, and after that, that's when I started getting into music in general more. I'm always playing music, but then last year was when I got insanely passionate. Literally, my ritual would be I would be in bed at 12 a.m. and look for new music til 2 a.m. That's literally what I did every night."
Q: HOW DOES YOUR PASSION MAKE YOU A BETTER PERSON?
A: "Directly, I get happier when I'm playing music or listening to music or singing along. It just makes me happy. I like listening to Jawaiian, which is like Jamaican Hawaii Reggae. When I listen to that, it's so upbeat and so positive, and so when I listen to that I get really happy and joyful. I think how it makes me a better person—it makes me more expressive and enables me and also helps me and guides me on how to express my feelings better, write better. So basically, it helps me as a person by my attitude, and then also write better."
Q: WHAT WOULD YOU LIKE PEOPLE TO KNOW YOU FOR IN 10 YEARS?
A: "In 10 years, I see myself living back on Maui with my family maybe. I'm not sure if I'll have a family yet. Hopefully, people know me for how hard of a worker I am with my accounting job and then also maybe my writing… I think the biggest thing is a hard worker, and if I have kids, a good mom. A godly woman who is a hard worker."