Spring Break on a college budget
Not breaking the spring break bank can be difficult, but doable.
Urban Dictionary defines spring break as "a week where all the dumb kids go to Cancun and all the level-headed people get to relax." I did not want to go to Cancun for my spring break, because I cannot afford that, so a nine-day road trip to Seattle sounded like a happy medium. Ten chai lattes, $292.80 and 3,235 miles later, this spring break wrapped up my college career in the best way.
A trip up north
The goal: San Francisco, Portland, Seattle and camping in the Redwoods all on a college budget.
I woke up bright and early at 5 a.m. to a pre-packed car — pack your car beforehand because sleeping housemates do not appreciate loud noise before the crack of dawn — ate breakfast, and picked up my road trip buddy, Candace Guereque, senior journalism major.
Our first leg of the trip: Big Sur to San Francisco. This was my fourth time in Big Sur and my third time within the last year, but I cannot seem to stop going back due to its incredible beauty.
I have traveled both north and southbound on the infamous Highway 1, but I recommend heading south. Both directions feature the same scenery, but southbound captures it better since you must look backward heading northbound to catch a glimpse of the beauty.
After spending hours exploring the rugged coast, we headed up to San Francisco to stay with Guereque's stepbrother, Ryan Romero. The key to our affordable trip was staying with friends and family along the way. Spend time with your hosts and never make them feel as if you are using them for a warm bed. Also, make sure to leave a thank you card or send one after your trip.
Once we arrived at her stepbrother's place, we grabbed a bite to eat and went to Twin Peaks, which sits on a hill above San Francisco and features an amazing view of the city. He told us to close our eyes on the drive up to get the full experience once we reached the top, making me put my life in his hands even though we had just met — the view did not disappoint and my life was intact.
The next day we headed to Point Reyes National Seashore in hope of a clear day, since the last time I was there I could not see my surroundings due to fog. Luckily, it was perfectly clear and just a tad windy. Since we had not eaten a full meal that day, with rumbling stomachs we went back for a barbecue to conclude our time in San Francisco.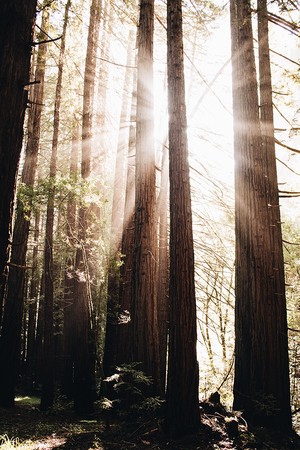 Unique eateries
We woke up bright and early the following day to drive to Redwood National Park, where we camped at Jedediah Smith campground. Despite the unplanned rain, we woke up on Easter morning among the beautiful redwoods — our definition of a perfect Easter.
Portland was next on our list, and with Dutch Bros. in hand we made the five and a half hour trek to the hipster capital. We spent our time in Portland drinking mass amounts of coffee, visiting the rose garden, which ironically lacked the flower in its name, and concluding our Easter at Voodoo Doughnut including a "He is risen" donut, which featured a crucified Jesus on a giant cross shaped donut.
We also met up with my friends Andrew Kearns and Jonathan Bidwell at Multnomah Falls for a day of adventure in the Columbia River Gorge. Seeing familiar faces after being on the road for five days was wonderful.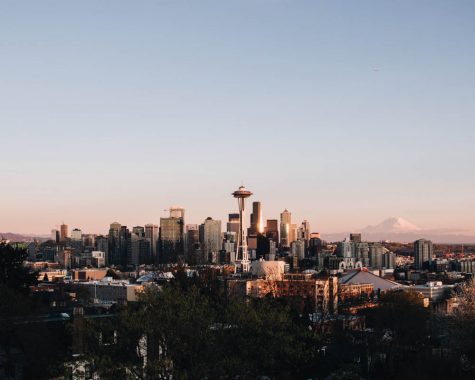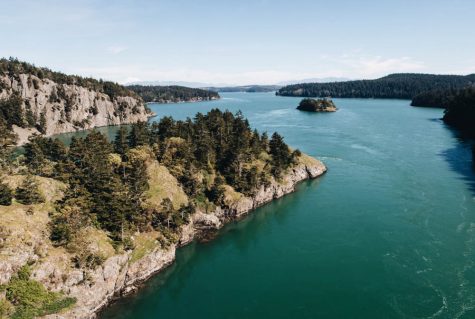 We spent the last leg of the trip in Seattle, where we stayed with a friend whom I had met through Kearns. Seattle featured nights in the city with some of my close friends as well as a day trip to Rattlesnake Ledge and a stop at Deception Pass.
Saving money
Now, you may be wondering, how I was able to afford a nine-day trip including food, gas and a copious amount of chai lattes.
In terms of saving money, only spend money on experiences rather than things such as clothes. Travel with a buddy to split the cost of all gas. For longer trips, I recommend as little people as possible since it is difficult to rally an entire group of people out the the door each morning. Stay with friends and family along the way as the cost of lodging adds up and there is nothing better than a warm, non hotel bed while on the road. Do not buy too many souvenirs, which can become expensive. I collect postcards from each place I travel to since they cost about 50 cents and look great as decor.