Mix Tape Monday: With God on our side(project)
Jeff Koch and Mack Hayden delve into the wonderful world of side projects! Check out a list of top-notch tracks that you won't hear on the Billboard Top 100… and won't want to.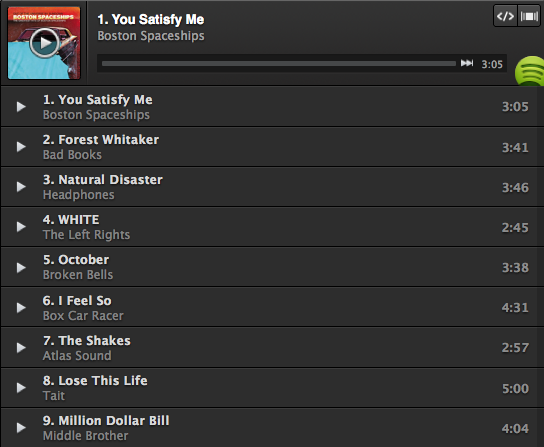 A Spotify List by Mack Hayden and Jeff Koch
Sometimes one just isn't enough. Side projects serve to balance out a band's creative output. They allow frontmen and peripheral band members alike to explore sounds they probably couldn't in the context of their original outfits. Here's some songs served up on the side, ready to be heard like a main course.
1. You Satisfy Me | by Boston Spaceships — Robert Pollard has long been known as a practical god of lo-fi. In the '90s, should grainy, poor recordings of crunchy Beatle-esque bursts of pop be your mantra, Pollard's main group, Guided by Voices, was your band. They briefly disbanded only to reunite later in the 2000s but, in the meantime, Pollard continued scrawling out his crackly melodies via Boston Spaceships. This track can satisfy aplenty. – MH
2. Forest Whitaker | by Bad Books — I reviewed the latest Bad Books album earlier this year, and I keep coming back to this track. It's one of the best pieces of music I've heard all year. Manchester Orchestra teams up with Kevin Devine to deliver an experimental-rock symphony of sampled drums, clean guitars and whistles, just to name a few of the diverse colors on this song's sonic palette. – JK
3. Natural Disaster | by Headphones — David Bazan has been angsty, doubtful, poetic, angry and many other things. Only in Headphones, though, could he be described as synthy. Gone are the nearly destructive guitars from Pedro the Lion's "Control" and missing is the mopey dismissal of Christian belief of his later years. Headphones is almost The Postal Service's dark, brooding, Kierkegaard-reading cousin. Thus, it's some interesting stuff we have on our hands here. – MH
4. WHITE | by The Left Rights — Let's just be upfront about this: Mindless Self Indulgence, an industrial rock/rap outfit, do not make music we'd call "savory." Or even all that good. But The Left Rights, a more classically hip-hop, electronic alter ego for the group, put out an album that's as frenetic and genius as it is gross. WHITE has to be the only track that I'd ever play in polite company, but its satire is as strong as its groove. If you're not put off by WHITE, look up the music video for I'M ON CRACK for a real treat. – JK
5. October | by Broken Bells — James Mercer first became a household name among the collective hipster youth when The Shins were featured in Zach Braff's neo-classic indie film "Garden State." Their melancholy folk-pop shines to this day, but this collaboration with producer Danger Mouse was just electronic enough to be startlingly different and eminently listenable. – MH
6. I Feel So | by Box Car Racer — It's Angels and Airwaves before Angels and Airwaves existed — Blink-182's Tom Delonge started this side project to keep his moorings in punk during the middle of the band's meteoric early 2000s rise. While Blink-182 stayed heavy but started to sound more top-40 friendly, Box Car got a little more emotive and guitar-based. Of course, the thunderous drumming of Travis Barker helps. – JK
7. The Shakes | by Atlas Sound — Deerhunter is the main project of echo-guitar mystic Bradford Cox. In Atlas Sound, he's found a way to experiment with more atmospheric and occasionally inaccessible sounds. "The Shakes" is a bit easier to get into than a lot of their other material, so this serves as a good doorway into the deeper cuts. – MH
8. Lose This Life | by Tait — Michael Tait is a busy man. In addition to pulling double duty as frontman for the new lineup of Newsboys and principal member of long-dormant supergroup DCTalk, he has also put out three solo albums, and promises a fourth is forthcoming (Hah!). I feel they're the only DCTalk solo work of any real merit. It's at least enough to tide us over until DCTalk releases another album, since the group is totally not broken up and just on an extended hiatus. Totally temporary. They'll … they'll be on a reunion tour in no time. I just … I just have to believe … *sob* – JK
9. Million Dollar Bill | by Middle Brother — We have a triple threat on our hands here. The front men from Dawes, Deer Tick and Delta Spirit all congregate here to bemoan the loss of a girl whose love they lost. The lyrics here are filled with all the gritty, bare-eyed soul they bring to their respective main outlets. Their collaboration here is as good as it gets. – MH
10. Maine | by John Linnell — Most side projects differ dramatically in style from the band the artist is trying to get away from. Not so here. Kings of nerdy new wave They Might Be Giants' keyboard-playing half John Linnell breaks away from fellow Giant and John, John Flansburg, to do, well, pretty much exactly what he does with TMBG. And we wouldn't have it any other way. Linnell crafts perfect pop-rock melodies and guilds them with the most out-there lyrical hooks imaginable. The whole album "State Songs" personifies a handful of states in our glorious union. Maine, in this case, is the object of the narrator's unrequited love. Yeah. – JK
11. Follow | by DIIV — Pronounced "Dive," these fellows are named after a Nirvana song but you won't find much grunge here. Instead, there's '80s alternative influence all over here and it's hard not to get lost in the journeying sound of the guitars. This is the official side project of Beach Fossils' touring guitarist, Zachary Cole Smith, and it's just more proof that this guy's a force to be reckoned with. – MH
12. I Can't Hear You | by The Dead Weather — Man, Jack White is everywhere these days. The Dead Weather is just one of his side projects from the now-defunct White Stripes, and his solo career has gone off like a shot. The Dead Weather is probably his least well-known outing, but just as worthy of listening. Gritty guitars, gritty vocals, gritty lyrics — it's that same vintage rock aesthetic you expect, but nothing like you expected. – JK
13. Funtimes in Babylon | by Father John Misty — Hailing from Fleet Foxes, drummer Josh Tillman took on the moniker of some kind of Catholic mystic and picked up an acoustic guitar. The result is a nearly country-twanged alternative extension of his other band's sonorous folksy harmonies. – MH
14. Pump It Up | by Elvis Costello and The Attractions — Alright, this one barely counts. The Attractions is just the name for Costello's backing band, and the "And the Attractions" suffix seems to get applied to his music almost at random. In fact, much of his better-known stuff is so branded. But, on a technicality, this mile-a-minute new wave jam makes it onto our list. You won't be mad. – JK