Mix Tape Monday: Guy Fawkes' Walkman
In honor of Guy Fawkes Day, Mack Hayden and Jeff Koch compile a list of songs to blow up Parliament to.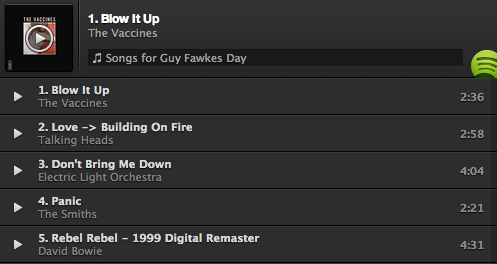 A Spotify List by Mack Hayden and Jeff Koch
In the interest of not forgetting the gunpowder treason that occurred on November 5, we've prepared a mix for the budding revolutionary, including a selection of songs about blowing things up plus anarchic angst as well as tons of gun puns. Remember, remember the Fifth of November.
1. Blow it Up | by The Vaccines — You know from the opening melodic distortion that this song is bound to blow. Though our friend, Mr. Fawkes, may have been more occupied with blowing up the corrupt British political establishment, The Vaccines offer a poignant reminder that the most explosive catastrophes most of us will deal with generally have to do with the opposite sex. – MH
2. Love -> Building on Fire | by Talking Heads — Talking Heads has always had a pretty good handle on claustrophobic vocals ready to burst at the seams. Songs like "Don't Worry About the Government" were sung by frontman David Byrne with the gusto and disregard of a carnival barker ready to offer escape to anyone who'd care for it. Love is a building on fire. What a Fawkesy sentiment. – MH
3. Don't Bring Me Down | by Electric Light Orchestra — One of my favorite bands of, well, ever, ELO doesn't write much about overthrowing the government. They're much more concerned with the RPMs of Beethoven's dead corpse, and the blueness of the sky. However, even these placid players have one song that's had it up to here with the status quo. – JK
4. Panic | by The Smiths — Though Morrissey's lyrics and Johnny Marr's guitar jangles are more associated with morose introspection than political anguish, "Panic" straddles the line perfectly. "Panic on the streets of London" not because of any Gunpowder Plot but because they're playing such transcendentally awful music on the radio. "Hang the DJ, hang the DJ, hang the DJ." – MH
5. Rebel Rebel | by David Bowie — Making a playlist themed around revolt of any kind has to include the king of counterculture, Mr. David Bowie. The crunchy guitar riff of "Rebel Rebel" is legendary and the entreaties to define yourself despite any constructs conventional society would place upon you remains an explosive concept to this day. – MH
6. Everybody Wants to Rule the World | by Tears for Fears — From the depths of the artistically-devoid pit we call 80s synth-pop, Tears For Fears carved out a niche of flowing melody that still finds its way into movie trailers today. This song reminds us all of our desire for self-rule, which Mr. Fawkes would've found soothing. "Nothing ever lasts forever." – JK
7. Where Is My Mind? | by Pixies — You might recognize this song from the climactic scene of "Fight Club." "Fight Club" was originally a book by acclaimed novelist Chuck Palahniuk. Pixies is a late-80s new-wave-stroke alternative rock band. These are things you should know about. Great books, great music, all of which are excellently paired with a backdrop of anarchy and explosions. Just sayin'. – JK
8. Rebellion (Lies) | by Arcade Fire — Win Butler and comrades carry on the work of past musical revolutionaries with deftness and clarity. The piano repeats and repeats, invoking angsty ideas about the banality of modern life. "Every time you close your eyes, lies, lies." If that's the case, who wouldn't want to take out their frustration? We just recommend not taking your frustrations out with explosives, "V for Vendetta" mask in hand. Punch a pillow instead. – MH
9. Gun-Shy | by Grizzly Bear — Grizzly Bear's 2012 LP, "Shields," has made a name for itself as one of the more listenable and critically acclaimed albums of the year. The band's melancholy temperament is accentuated by packed-in chimes and click-a-clack percussion. "A guide that has only led me astray / And even as I limp, you smile." Guy Fawkes may have become forcibly gun-shy but the rest of us have desires cut off daily too. Minus the bombs. – MH
10. Son of a Gun | by The La's — This one was the opening song on a fantastic album overshadowed by its hit single, "There She Goes." You won't get any raspy voices counterpointed by smooth falsettos here but the boxy guitar and quick tempo should extend anyone's palate for The La's deeper cuts. As to how it relates to the fifth of November, it has the word "gun" in the title. You didn't want these all to be punk songs did you? – MH
11. London's Burning | by The Clash — But hey, if you want a punk song, we'd be happy to oblige. Joe Strummer's angry guitar stabs and vocal growl is more fitting on this day than any other. – MH
12. Revolution | by Pennywise — Alright, so there's not much to this one besides punk-rock angst, but SoCal rockers Pennywise did just announce that they're coming out of retirement. A fitting day to celebrate, if you're a fan of Blink-182, Pennywise or other West Coast punk bands of a similar ilk. Nothing says anarchy like power chords. – JK
13. Burning Down the House | by Talking Heads — Okay, we know the cardinal rule of any mix CD is to not put the same band on twice but this list is all about anarchy anyway, so who cares about the rules? Besides, you wanna talk about a perfect pun, this title gets at what our friend, Fawkesy, was aiming for in the first place. Also, you could always use more Talking Heads in your life. You don't have to say thank you. – MH
14. Political Science | by Randy Newman — We've done some talking about what happens when we're mad at the government but what about when the government's mad at us? "Political Science" is about Parliament deciding its had enough with its citizenry, more particularly the U.S. getting fed up with all the other nations of the world. "They don't respect us, so let's surprise them / We'll drop the big one and pulverize them." Plus, this is "Toy Story" songman himself, Randy Newman. – MH
15. Give Up The Funk (Tear the Roof Off the Sucker) | by Parliament — Get it? Parliament? Tear the roof off? It's like, clever. And stuff. Yeah, OK. Just … OK? Listen to it anyway. – JK