Knotts' Crafts Village is perfect for low-budget college students
Knotts Berry Farm's Crafts Village earns a 3 out of 5 stars for offering college students a free opportunity to shop and enjoy the holiday season.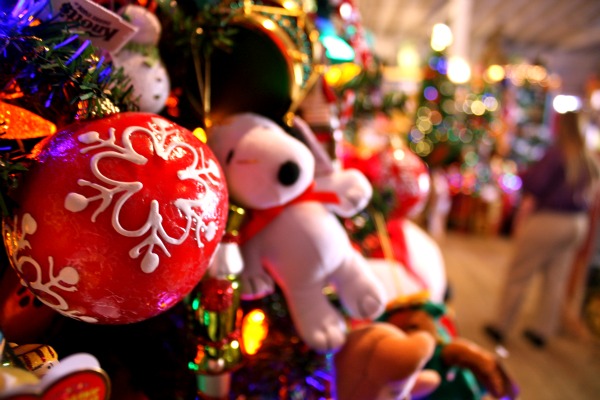 The holidays are here and the end of the semester has finally come upon us. So this week, we are introducing you to the Christmas Craft Village at Knott's Berry Farm, a fun place to go to celebrate the end of finals and the Christmas season.
Buying gifts at Knotts Christmas Crafts Fair
The Christmas Craft Village is a perfect place to visit if you are hoping to get into the Christmas spirit. Ghost Town is sectioned off for the occasion and the whole place is decked out in Christmas decorations.
Some highlights of the village are the large Knott's Christmas tree and Santa's work shop. In Santa's toy shop there is a large sled set up where you can take a picture with Santa and his elves. The toy shop is also great for stocking up on all the Knott's Christmas paraphernalia like the ornaments and toys. In addition to the Ghost Town stores, there are more than 25 different craft vendors, which makes it a great place to find a perfect Christmas present.
Other fun things to do include games, like the basketball toss. Some interesting parts of the village were the different talents on display. We viewed a woman blowing intricate details to make delicate glass sculptures and also there were Native American dances taking place.
Knotts put a lot of effort into making the village special, which is especially seen in the Bird Cage Theater. In the theater, actors presented a free thirty minute dramatization of Dickens' "A Christmas Carol." Even considering the short nature of the performance it was actually quite good.
Celebrating the holidays at Knotts for free
The best thing about Craft Village is the fact that it is free Monday through Thursday (weekends you can get in at general admission price), which is a great thing for poor college students, especially during the holiday season. Another great thing is that the parking is free too, which makes this the perfect holiday destination. We highly recommend you check out the Craft Village as a great last outing with your friends before you all head home for the holidays. So good luck with finals and have a great break and a Merry Christmas!