Soaring Stories: Raised as a missionary
Rachel Wyatt shares her background in ministry.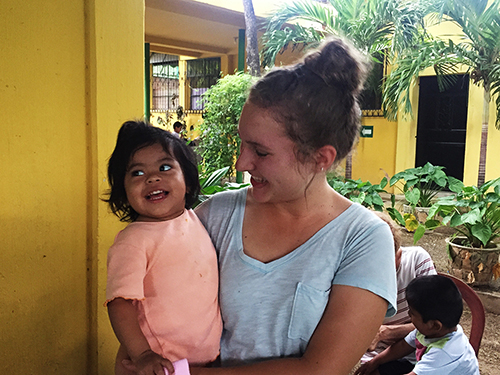 Q: What is your name year and major?
A: Rachel Wyatt, freshman communications studies major, considering switching to intercultural studies.
Q: How would you describe yourself in three words?
A: 1. Humble
2. Positive
3. Gracious.
Q: What are you passionate about?
i.e. What do you love doing?
A: I love the science behind communications, but I feel like I'm more passionate about intercultural studies because I love missions work. I hope to go into missions work after I graduate.
Q: When and how did you start becoming passionate about it?
A: I grew up being very involved with missions work. When I was probably around five years old my dad went on a trip to India through my church. Then when I was about nine, I went on a trip with my whole family to Mexico.
[My church] sends a missions team to Mexico every year. Both of my older brothers went all four years of high school on the Mexico missions trip, and then I went three years in high school… Then I went to Guatemala this summer for two weeks and had the best time of my life, and I hope to go back in the future… I just love it and I hope to do overseas mission work in the future."
Q: How does your passion make you a better person?
A: "I feel like it's made me a much more positive person because seeing the difficulties that all of these different people go through, who go through a lot of poverty and don't have a lot of material items… They find their joy in the Lord, and they find joy in everything they do because they have their faith… Knowing that a lot of the things I do have I don't need, and it's really just my faith that I need."
Q: What would you like people to know you for in 10 years?
A: "When I hope to be a missionary and do missions work, the thought of being this big missionary where a lot of people know about me, that's not like a big deal to me. It's just the people who I am serving for, I want to be known by them as someone they can turn to for joy and for advice and just someone that can show God's love to them if they need it."