Autumn harvests ornamentation: a leaflet
Female residents speak on their inspiration for seasonal decorations.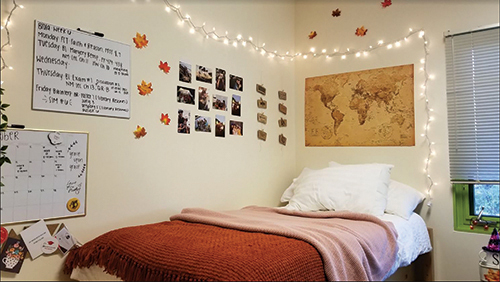 "I love the feeling of being cozy and having to wear sweaters. The weather starts getting cooler, and the leaves start getting pretty and orange and falling down," said Melissa Thomas, sophomore elementary education major.
Thomas put her love for autumn into the decorating of her dorm room door. She is not alone as many female residents decorate their doors and rooms across campus. Whether a pumpkin placed outside or a garland placed around a door frame, autumn has arrived and decorators are happy about it.
What to do?
There are few ways to ring in the autumnal season. For a simple approach, one could buy a gourd or pumpkin at a local supermarket and decorate their chalkboard with a saying like, "It's Fall Y'all!" To take it up a notch and decorate the door, the Target dollar section has many fall banners, pennants, and artificial yet colorful leaves for a low price. To take the one step further, residents could head to the Dollar Tree and decorate their entire room for $15, which is what junior biological science major Allison Buck and her roommate did.
"Me and my roommate really like Pinterest, so we were on there a lot," Buck said. "We also went to the Dollar Tree. We found most of the stuff there. We both really like fall, and I know my roommate likes to decorate a lot, so we just agreed to decorate our room together."
Roommates, freshmen kinesiology major Brooke Barnard and mathematics major Sam Aguirre, started their decorating journey on Pinterest as well. They started out wanting a wreath on their door, but went to Michaels and gathered other ideas: an autumn garland and a cute sign was the way to go.
$10 to $15. However, a shopper must make smart decisions in making their purchases.
"Funny story about that, we went to Michael's, and we bought [decor] and it was probably about 30 dollars," Aguirre said.  "Then, we went to Walmart and found out we could get the exact same thing for maybe 10 dollars. I would say it's affordable. We just didn't go the affordable way of doing it."
While Michael's is typically more expensive, junior cinema and media arts major Kaitlyn Rogers decorated her door for $10 with items from Michael's. She shopped in the sale section and used a 40 percent off coupon for her decorations.
Decorating a dorm for fall is both fun and affordable, and also allows roommates to bond over
decisions on whether to get pumpkins or leaves to put in the room. Whether it is a fall scented candle or a pumpkin chalkboard on the door, decorating for fall gives a living space a warm, cozy, inviting feel. Orange leaves on the wall, coffee brewing in the corner and a warm blanket to wrap oneself in makes for a wonderful autumn season.