Summer Heat Underdogs: Most Underrated Films of Summer 2017
This past summer was a success for film, but don't smother these radiant gems with too much sun block.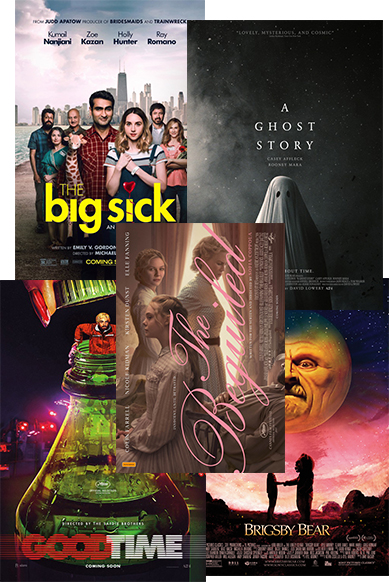 This past summer movie season sweltered, simmered and smoldered its way into the hearts of many in 2017. While previous summers presented the worst Hollywood had to offer, this year proved different. With the empowering "Wonder Woman," the stunning "Dunkirk" and the inspiriting joy ride of "Baby Driver" front and center of all the hype, the film industry pleasantly surprised with dense blockbusters and three dimensional characters audiences will not soon forget. Nevertheless, a few indie gems, great films nonetheless, became buried beneath the aforementioned blockbusters. All this to say, check out these five severely underrated films, because this past summer merits much more praise past its instantaneous classics.
For those who continue to deem the romantic comedy canon as illegitimate, prepare to eat a healthy serving of crow, by allowing Michael Showalter's second directorial project "The Big Sick" to feed it to you. Thoroughly endearing and emotional, accompanied by striking deadpan humor, "The Big Sick" remains as hilarious as it is poignant. With a sharp and interpersonal script, electric character synergy and excellent direction via Showalter, this film may quite possibly stand as one of the greatest rom coms of recent memory.
Watching the women of the Farnsworth House, both young and old, frenzy into a ball of smoldering envy, then combust at the cost of a limb and a life remains an amusing yet sadistic sight to see. Thanks to the ingenious direction behind the one and only Sofia Coppola, this southern gothic drama gave an early summer drowning in vapid blockbusters a second chance at life.
James, played by Saturday Night Live's Kyle Mooney has an obsession for the fictitious television show "Brigsby Bear." One would say he is the show's greatest fan. In fact, he exists as the only fan, as his so-called parents created it uniquely for him in order to keep his mind occupied. But James soon finds out that he is actually the victim of a kidnapping from years ago. "Brigsby Bear" is a rare film — one that is so sweet, endearing and purely positive, that it becomes incredibly difficult to critique it for its small blunders. Mooney as the once captive James takes center stage as a man-child in the midst of a calamitous-crisis. "Brigsby Bear" presents viewers with hilarity, the power of creativity, friendship and a love letter to filmmaking that will warm the most frigid of hearts.
A head rush, an anxiety attack and frankly, a good time altogether, the Safdie Brothers' Cannes Film Festival darling, "Good Time" injects unadulterated fuel in viewers' veins. This project has an uncanny, quick pace considering its lengthy duration. With the help of an exhilarating and defining score from electronic music pioneer Oneohtrix Point Never, it becomes easy to see why critics at Cannes showered the Safdie Brothers with praise.
Well, this film is not one to recommend to just anybody. For starters, Rooney Mara consumes a chocolate pie for five minutes straight and Casey Affleck's ghostly presence strolls around with a bed sheet ladened over his body for the entirety of "A Ghost Story." All this to say, if you can endure a slow yet meditative paced atmosphere and existential absurdity, you will quickly see why "A Ghost Story" has gained steam as one of the best films of the year thus far. Small in budget but quite grand in emotive power, director David Lowery's indie charmer tests one's patience but rewards with an earth shattering resolution to the plot's cosmic ponderance.