"No Shape" embraces Hadreas' sexuality
Perfume Genius drapes listeners in frescoes of euphoric sound in an ode to queerness.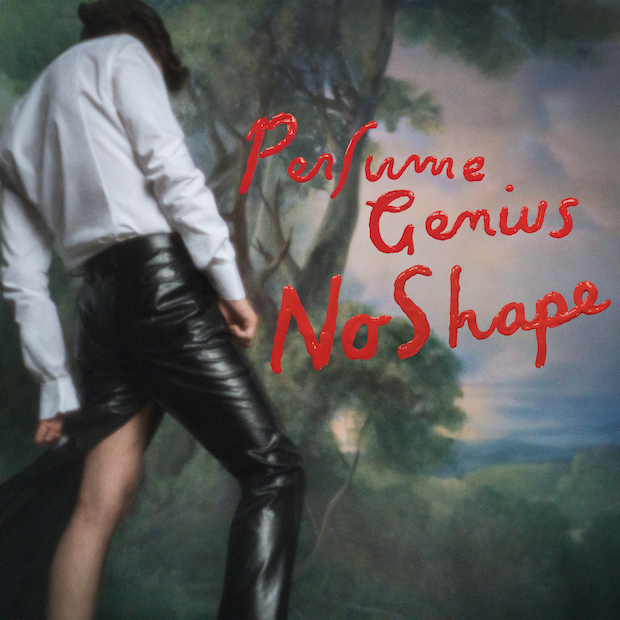 The peerless talent of singer-songwriter Mike Hadreas, better known as Perfume Genius delivers a near-masterpiece of impassioned evocation with "No Shape." This cinematic narrative centers around the trials, tribulations and ultimate joys of being queer — all unhinged by an explosive push and pull production value that broadens upon a sonic range that was once pinioned merely by a delicate piano and Hadreas' hushed vocals.
Reflection and courage
In comparison to his last album, Perfume Genius draws his listeners inward with true endearment, resulting in his most reflective and courageous album yet. While Hadreas' new approach radiates empowerment, this drastic transformation respects the tender roots of the hushed beauty prevalent in "Too Bright." "No Shape" embraces this timid softness from his prior work, but remains confident nonetheless — more accepting of his own sexuality than previously depicted. This fiery confidence smolders through a radiant compilation of engrossing tracks, which at times feel urgent and at moments melodic, reinforcing Hadreas' growth as a musician and human being.
"No Shape" brims with an invigorating energy which contributes to the making of emboldened and exotic anthems. Perfume Genius' sonic transformation is obvious from the first track "Otherside." Hadreas initially reverts to his bashful nature through arpeggiated piano and soft vocals. After a minute of melodic sedation though, an explosion of shimmering synth deluges the listener with an alluring ambiance reminiscent of the the engulfing iridescence heard through The Cure's opening track off of "Disintegration," "Plainsong." The album then takes a pulsating turn with the album's lead single "Slip Away," as it erupts into a relentless, percussive uproar, perfectly embodying the running theme of courage.
Turbulent emotions
As Hadreas delves further into fields of uncharted soundscapes, the remainder of  "No Shape" twists and turns, paralleling the turbulent emotions felt throughout the album. "No Shape's"  sound breathes euphoric chaos — bursting into fragments of flamboyant soundscapes blanketed by layered, multi-instrumental arrangements. Perfume Genius' agglomeration of varying instrumentation provides an unorthodox pop sound — it is simultaneously glittery, primal, bombastic, mournful and utterly glorious.
The queer undertones of Hadreas' work resurface as the vehicle driving the emotional power on "No Shape." While Hadreas appeared more reluctant within his body as someone who is gay in his previous works, he revitalizes himself in "No Shape" as a proud, powerful and potent artist who scoffs at those who gawk at him. "No Shape" appears to be his most introspective work to date and he presents this self-examination frequently, most notably on the Kate Bush-inspired "Wreath," one of many moments which unfurls Hadreas' overall elation of discovery in the album.
Strength and solace
Through varying sonic and thematic dichotomies, this album extends itself, scouring for strength and comfortability. Hadreas takes on an escapist mindset, encourages many, then rips his heart out and leaves it on the table.
The closing track, titled "Alan," is the perfect way to end such a vital work of art. The irrefutable love song is a hymn of praise to his partner Alan Wyffels. Here, Hadreas makes himself genuinely vulnerable. "Alan" ties together an album that displays Hadreas' maturing ability to create art that strengthens and solaces others. He accomplishes this by finding comfort and being bold in his sexuality, then caps it off with a piece dedicated to the man he shares his heart with. "No Shape" is transcendent, unhinged, comforting and the pivotal moment of Hadreas' career.
About the Writer
Kyle Kohner, Copy Editor & Office Manager
Amid his final year with the Chimes, Kyle is a four-year vet of the publication. Before this year, Kyle began his tenure like most at the Chimes—as a freelancer and an apprentice. He's also held positions as the online editor and the A&E staff writer in the past. He also demands that you all go watch the movie "Hereditary."

Hello there! My name is Kyle Kohner, born and raised in San Bernardino, California. I am a senior journalism student at Biola University and a self-proclaimed film...