A Guide to A24
To comprehend the film distribution company's rapturous arrival, delve into the sweeping essentials to A24.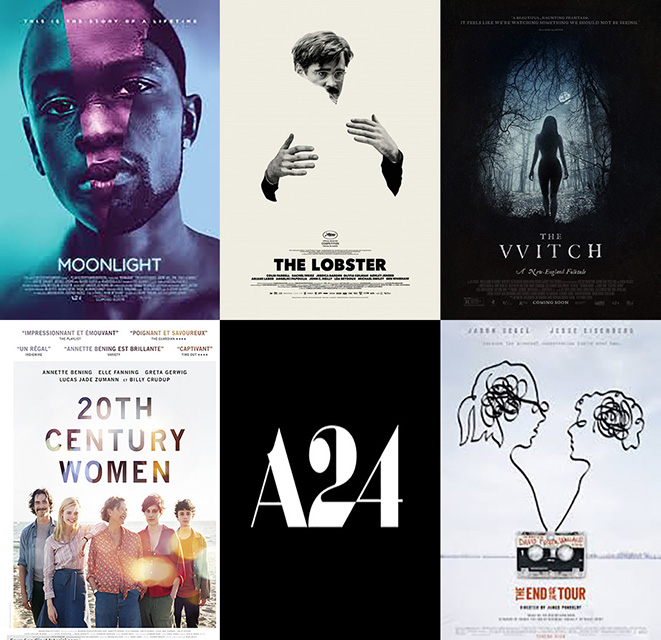 A24 represents boldness in the face of the financial behemoth Hollywood, and while its introduction to the film world was at the very least polarizing, it would eventually pay off within a five-year period. A24's first widely distributed film "Spring Breakers" was reviewed brutally by film critics, but its bold nature garnered a large following within the common viewer and the rest was history.
Just one year after the release of "Spring Breakers," the distribution company embarked on an expedited path to glory, validating their keen eye for artistic quality under the success of Denis Villeneuve's "Enemy" and Jonathan Glazer's feminist sci-fi piece "Under the Skin." But for A24, the ball really started to roll at the 2016 Academy Awards, as they came away with three Oscars. Within one night, the fledgling incubator of indie greatness crossed the threshold into film superiority. A24's star only grew brighter with their first funded film "Moonlight" — the eventual 2017 Academy Award winner for Best Picture.
Over the course of five years, A24 has obtained acclaimed success through unique marketing and a volitious artistic vision through a filmography of roughly 50 films. Their recent stretch of success lies within artistry which still exists in an industry saturated with commercialism and box office numbers. While A24's vision for artistic quality seems ambiguous, they understood from its formative stages its curious and cognitively expansive audience, which seeks small yet venturous material to sink their teeth into. As mentioned before, A24 has an unflinching eye for bold but authentic screenplays — unorthodox storylines penetrating the raw essence of what it means to be human or even inhumane. In order to grasp A24's vision for cinematic brilliance, voyage through their broad collection of eclectic narratives, characters and social commentary, but to expedite the process, here are five essential films to help you fathom a vision grounded in ornate film culture.
Moonlight: Barry Jenkins' "Moonlight" possesses sheer emotional power by means of phenomenal direction, acting and cinematography. Its intersectional undertones though, makes it the quintessential A24 viewing as its subtle storyline is fulfilled by what it means to live the disadvantaged human experience in America.
The Witch: Within the past few years, horror has seen a resurgence in quality, simultaneously eschewing the traditional, eerie narrative and its accompanied jumpscares. A24's "The Witch," directed by Robert Eggers spearheads this renaissance, as its brooding setting and use of silence undermines the security and expectations of its audience, resulting in the most ominous viewing within the genre this century.
20th Century Women: An immersive trip through the late 1970s on the surface, Mike Mills' inspiring feminist piece "20th Century Women" transpires as a bittersweet take on understanding fate, expectations and the inevitable fleeting reality of life. The film focuses on the narrator's struggle to explain the essence of his mother and vice versa. "20th Century Women" quells as another reserved A24 film, playing into a trend of simplicity that allows an avenue for fully-fledged characters to emanate as the film's emotional driving force.
The End of the Tour: James Ponsoldt's "The End of the Tour" delivers yet another A24-styled character-study of real life human brokenness. This specific case examines the acclaimed author David Foster Wallace played by Jason Segel in the best performance of his career. Ponsoldt constructs alluring characters while presenting a genuinely poignant and heartbreaking tale of loneliness and depression.
The Lobster: Yorgos Lanthimos' quirky and abrasive romantic drama entwines caustic dark comedy within a film to a never-before-seen level. "The Lobster" scrutinizes the absurd aspects of romantic relationships and the social constructs that submerges these relationships into futility. The dystopian ambiance adds to the film's ludicrous quality, inviting viewers to ask further questions about how inherently inhumane humans can become. "The Lobster" represents one of the many otherworldly storylines explored by A24, but also stands as the essential passageway into a dark rabbit hole sure to reward and devour those seeking to comprehend this distribution company.
The catalog of masterpieces A24 has accrued over the past half decade stands as an incomparable feat. While not every film A24 distributed oozes greatness, each one has made me at least appreciative and intrigued by what they have to offer in the future. Talent has and will continue to be courted by this glowing tour de force in the film industry for many years to come. Film after film, I have come away increasingly enlightened by a reality exposed through film and a glimmer of hope for the posterity of film. The future of cinema is A24, once a small entity with an unwavering appreciation for unique stories that might not always receive the exposure they deserve. Before 2012, Hollywood laughed all the way to the bank with fat pockets thanks to the brainless consumption of big-budgeted distributions. However, with the inception of the small-dollar A24 Entertainment Company, independent filmmaking has begun to subvert Hollywood and its corporate interests.
About the Writer
Kyle Kohner, Copy Editor & Office Manager
Amid his final year with the Chimes, Kyle is a four-year vet of the publication. Before this year, Kyle began his tenure like most at the Chimes—as a freelancer and an apprentice. He's also held positions as the online editor and the A&E staff writer in the past. He also demands that you all go watch the movie "Hereditary."

Hello there! My name is Kyle Kohner, born and raised in San Bernardino, California. I am a senior journalism student at Biola University and a self-proclaimed film...