Chimes' Athlete of the Week: Women's Tennis' Katie Boesl
Boesl's recent streak of superb play has helped lift women's tennis to new heights.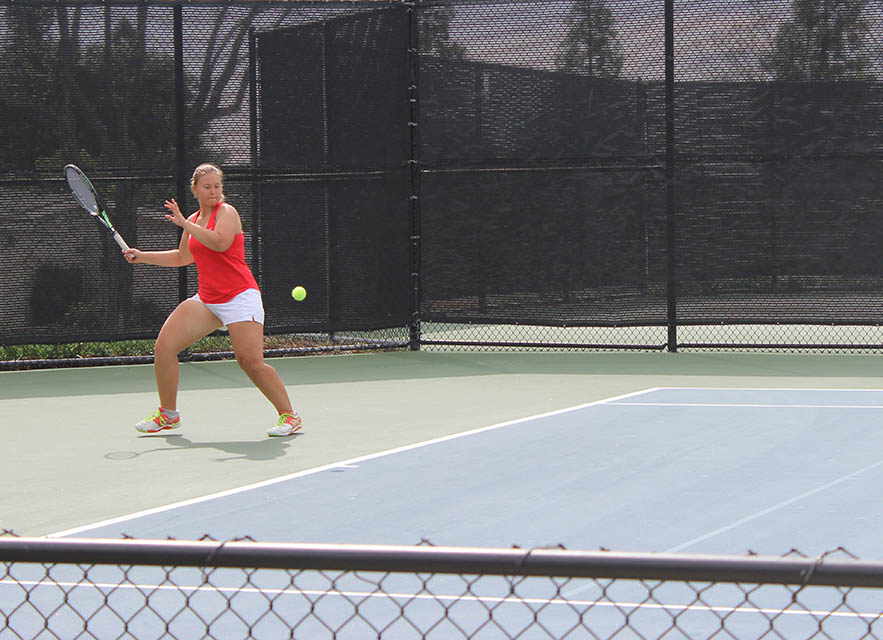 Biola's women's tennis team has struggled for the better part of the 2017 season. However, the resilient group under coach David Goodman has captured three straight victories. But the Eagles' victory over the Westmont Warriors, their first since 2004, proved most meaningful. The Eagles' recent success is due in large part to sophomore Katie Boesl. The number six singles and number three doubles player from Coos Bay, Ore. has won two of her last three singles matches and three straight doubles matches. Her valiant work against Westmont encapsulates how impressive her recent stretch of play has been. She captured her singles match by winning a close first set 7-6 (7-5) and the second set in convincing fashion 6-2. The No. 3 combination of Boesl and freshman Tinisee Kandakai swiftly defeated the opposition 8-2. Boesl has proved her vitality to the Eagles' success in recent matches, validating her standing as this week's winner of the Chimes' Athlete of the Week.
Stats: April 1 against University of Westmont: Singles (WIN): 7-6(7-5), 6-2; Doubles: 8-2 (WIN)
About the Writer
Kyle Kohner, Copy Editor & Office Manager
Amid his final year with the Chimes, Kyle is a four-year vet of the publication. Before this year, Kyle began his tenure like most at the Chimes—as a freelancer and an apprentice. He's also held positions as the online editor and the A&E staff writer in the past. He also demands that you all go watch the movie "Hereditary."

Hello there! My name is Kyle Kohner, born and raised in San Bernardino, California. I am a senior journalism student at Biola University and a self-proclaimed film...