Passionate students persevere
Work stops being work when students pursue their passions.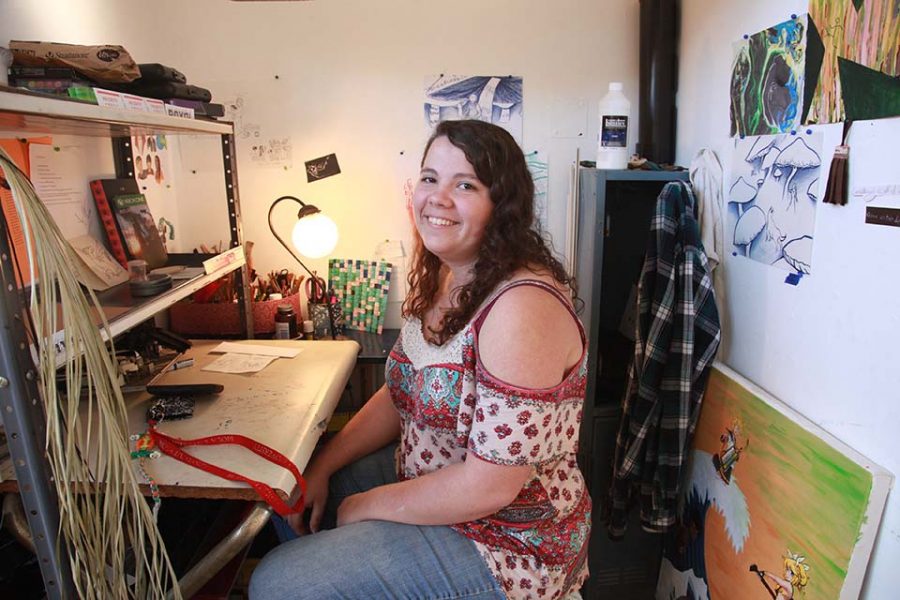 Alison Hartzler, Writer
March 8, 2017
Passion has driven people to do unexplainable things. They motivate, strengthen and promote a quality unique to each person.
Overshadowed passions
College should be the place where students can dive into their passions and search the depths of their desires, coming out as strong-willed, informed adults ready to take on their goals. But what happens when college road-blocks overshadow that passion by drowning students in overly emphasized work or forcing irrelevant subject material down their throat? Is a passion worth this unexplained detriment?
"I feel like sometimes it's impossible because of the work you have to do," said Ashley Yukihiro, junior human biology major, exasperated thinking about the chemistry homework in front of her. "I didn't think I'd be so centered on chemistry and physics. I want to be an optometrist, give me the bio classes."
There is a lot expected from a biology major. When a student's motivation is to be a doctor or an optometrist, imagine the weight of frustration having to sit through two semesters of chemistry, one of the most difficult classes on campus.
Dreams versus reality
However, coming to Biola prepared to learn all about a certain area of study only to find out that passion is not offered is just as disheartening. Junior painting major Catherine Ashdown had a dream of becoming a concept artist for movies. However, when she came to Biola she was told the closest major would be painting.
"I didn't have a great amount of [concept art] experience before, but now I've had such little training," Ashdown said.
A substantial, seemingly unnecessary workload or an interest that does not capture a student's heart can be enough to dishearten a student in the pursuit of their end goals. However, sophomore commercial music major Chris Hutton realized although he has a substantial amount of work, he is thrilled because he cannot imagine doing anything else.
"It's time-consuming, but that's probably the part I enjoy the most," Hutton said. "The time I can go into a room by myself and sing and make weird noises and just work on my craft."
While the workload can be extensive, and the subject material does not always seem relevant, a student can realize what they are doing is what they love, and can use this knowledge to enhance their goals — it makes the work not just worth it, but exhilarating.
"I was killing myself over [chemistry], but when I got into physiology, it blows your mind because you realize how applicable chemistry is to human anatomy," Yukihiro said, excitement building in her voice. "I'm learning this for a reason — it applies. I'm not just doing this for nothing."
A world of possibilities
Realizing how something so unconnected can tie into what they love opens a new world of possibilities. Ashdown even had to place her academic emphasis on a subject outside of her passion.
"It's a different perspective and it's very interesting," Ashdown said. "I've learned so much of other different kinds of art mediums, I've been taking different goals and directions."
Because she was unable to study her initial goal, Ashdown has been able to open her mind to a variety of different ideas, and she loves it.
"I love doing what I get to do. Since I enjoy it, and I get to do so much of it, it's a really great privilege," Ashdown said.
Although Hutton must commit most of his time to improving, with everyone's individual drive, there is so much more to learn than a student can realize.
"If you want to excel and get better, you will spend hours and hours practicing," Hutton comments.  "Every single lesson I walk out of, I walk out going, 'wow, I still have so much to learn' and it's great."
While a biology major probably could not handle the workload of an art major, and a vocal major probably could not handle the workload of a science major, it stops becoming work when they are doing what they love.
"Having three projects due in the next two weeks, knowing you are going to be doing nothing but breathe art, I really like that," Ashdown said.