Hanging in there
SGA voted on installing hammocks on campus for students to hang out in when stressed.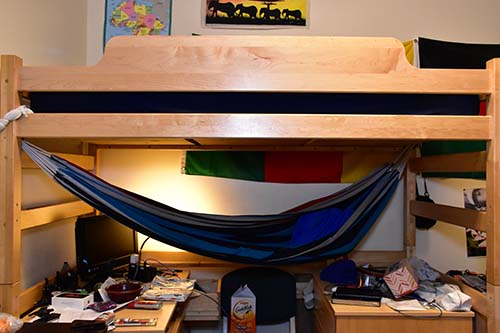 A breeze whistles around two metal poles planted in the ground across from "The Word." A student lies cool beneath the trees in a soft cloth hammock, taking a break from the study grind of the new semester.
Disbelief and excitement
When Student Government Association newsletters circulated the school announcing the installation of hammocks in two locations on campus, residents generally reacted in disbelief or excitement. From the perspective of those in SGA, the proposal passed with only one vote against, passing with excitement from many senators.
Katie Davis, Sigma senator and junior psychology major, initially proposed the installation after several students and senators in the past had made similar attempts. Many upper classmen who have anxiously awaited the hammocks reacted with excitement but also a slight disappointment that they will only get to enjoy the hammocks for their short time left at Biola.
"I won't even be here next semester, so I probably won't even be able to experience them until my graduating semester," said Madeline Koble, junior elementary education major.
From Davis' perspective, the hammocks have been a long time coming — her excitement over their presence quickly approaching campus is evident.
"It was such a good feeling to know that I did something for the students. That I ultimately started this project because one student had this idea and I could help carry through the process for hopefully years to come of people being able to use these and have wanting them for so long — it was a great feeling," Davis said.
A day and night commitment
Inspired by UC Davis' infamous hammock locations, Davis felt the right way to go about the process was with a proposal, made last year to kickstart the idea in SGA.
"Everybody talks about them, so I'm like, 'Why don't we have them?'" Davis said. "So I researched into it and figured out all the details for it. I worked on that day and night last semester to try to get all those details worked out for that."
She went through multiple steps to get the bill passed, including working with risk management and the university legal counsel. Davis views the coming of hammocks with giddy excitement, knowing her work will prove worth the effort when she sees the joy on students' faces.
"Just knowing that I did something that students are really excited about just makes the job so much better and worth it," Davis said.
A greater congregation
Angel Gudeman, junior sociology and criminology major, brings up a valid point about the chosen locations — the Olive Grove and in front of the Student Union Building. She suggests the potential for an increase in activity toward those areas, drawing a greater interest for students to congregate closer to the center of campus as well as seclusion further away.
"I think people should be able to hammock if they want to hammock, so I think students will be able to enjoy it… If you're able to hammock there, people probably would. I think it would make it a little populated there if they put the hammocking stations up there," Gudeman said.
Koble added to that by saying the hammocks in those locations will grow Biola's community, as well as those unpopulated areas on campus.
"I think it's awesome. If they want to do that, I think that would be a really cool community building area," Koble said.