Chimes' Athlete of the Week: Swim's Lisa Tixier
Tixier's victories at the La Verne Winter Invite earns her the Chimes' Player of the Week.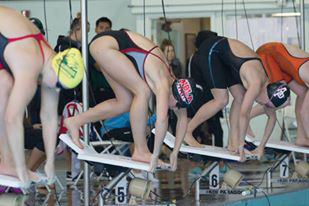 In her last meet of December, junior Lisa Tixier came away with three first place finishes for the Biola team that saw 31 new national qualifiers and two new school records fall at the La Verne Winter Invite. Tixier, holder of four school records herself, claimed victory in the women's 200-yard individual medley on Dec. 2 and the 100-yard butterfly event on Dec. 3. In addition to her event wins on Friday and Saturday, Tixier grabbed the top spot in the 100-yard freestyle by almost a full second over the second-place finisher on Dec. 4. In the event, Tixier paced the field consisting of stiff competition from schools such as Azusa Pacific University and California State East Bay. The junior from Benton City, Wash. furthered her spectacular season as the anchor of a strong swim and dive roster with the event wins. Tixier earned the title of NAIA Swimmer of the Week thanks to her dominating performances on Dec. 2-4, making her the deserving recipient of this week's Chimes' Athlete of the Week.
Stats:
– 1st in the 200-yard individual medley on Dec. 2
– 1st in the 100-yard butterfly on Dec. 3
– 1st in the 100-yard freestyle on Dec. 4