Echavox expands its creative breadth
Andrew Eastman enlists the help of Ryan Kozycz as his vision gains momentum.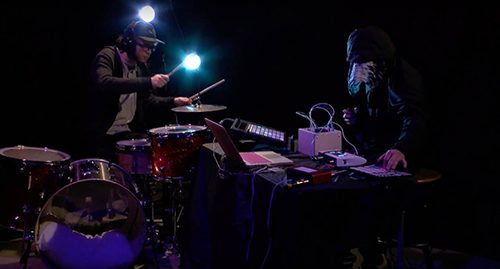 "Without the constantly moving cycle of creation in my life, I feel absolutely useless," said Andrew Eastman, who helms the artistic project called Echavox. "I know that at the moment, this is the best way for me to contribute to the universe."
depressive serenity
The emotional and spiritual depth of Eastman's musical approach provides a singular vantage point into gorgeous landscapes of musical expression. "Queen of Heaven," released 13 days into 2016, saw his musical capabilities exemplified like never before. With 11 diverse tracks of depressive serenity, Eastman implements anything from baroque pop to trip hop in a gorgeous sonic panorama.
However, those who have watched Echavox perform understand how drastically his live material differs from the music he has released on record. Indeed, his DJ sets have a much more concussive delivery to them than the ethereal and grandiose vibe of "Queen of Heaven."
His surpassing skill at navigating ableton tablets more than matches the arrangements of his placid recorded material.
The industrial hip-hop ferocity of Deathgrips distinguishes the current incarnation of Echavox, largely manifesting through madman percussionist Ryan Kozycz, junior philosophy major. Since joining forces with Eastman less than a year ago, Kozycz himself sees himself as a fan of the project with a unique vantage point.
"There was something already there that I wanted to experience," Kozycz said.
Although he essentially ad-libs over Eastman's arrangements, he still finds himself channeling many of his personal influences — specifically the Kanye West album "Yeezus."
"You could just feel the ferocity of it," Kozycz said about the record, also citing Frank Ocean's "Blond" and David Bazan's Christmas album as fuel for his fiery delivery.
The addition of Kozycz to Echavox has seen its performance capacity skyrocket. The two musicians come together in a way neither have experienced before. In fact, Eastman says this collaboration has resulted in some of the first performances he sees as "acceptable," stating his work with a live drummer has resulted in glorious realizations of what they both envision for the project.
elevating his therapeutic opuses into the stratosphere
In regard to future releases, Eastman projects the release of multiple albums, the first expected in early 2017. Although his musical directions will remain surprising and confrontational, Eastman maintains that it will center around "frightening, sensual, depressing, or beautiful" vibes. However, this only scratches the tip of the iceberg of what Eastman and Kozycz have in store.
With the premiere of the project's film, "It Was Only Then That I Realized I Was Driving Myself Into the Gates of Hell," coming soon, Echavox has begun embracing art forms outside of simply music. Echavox's most ambitious outing, a musical called "COR," is currently set to premiere in March 2017. Eastman lauds this as a culmination of everything he and Kozycz learned in their lives.
Featuring complex dance choreography, an original score and a plot surrounding a post-apocalyptic world in search of salvation, "COR" has the potential to reach an apex of encompassing artistry. Both Eastman and Kozycz encourage people to follow them on their Instagram account, where they will post weekly updates leading up to the production's debut.
"Performing, playing and writing is the only thing that makes life bearable," Eastman said. From the looks of it, he has only begun elevating his therapeutic opuses into the stratosphere.