Christmas presents serving opportunities
Students discuss the importance of giving back to the community during the holidays.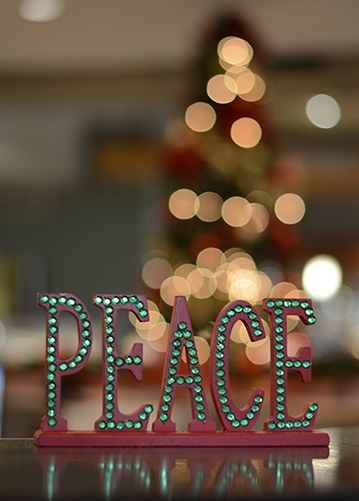 With Christmas fast approaching, people quickly forget the spirit of thankfulness and giving and replace it with the cultural materialism that seems to overwhelm this time of year. However, the most fulfilling Christmas plans just might take place around serving others rather than oneself.
Celebration through service
Students and church staff in the vicinity of Biola's campus believe that Christmas proves an opportune and necessary time to celebrate through giving and serving. In La Mirada alone, people can find ample opportunities to serve the community through organizations like Salvation Army and Operation Christmas Child run by Samaritan's purse.
"I think the importance of giving is that God has blessed us so much with so many different gifts, whether we realize it or not, and I think he designed us to give as well," said Morgan Carr, senior public relations major and organizer of the Samaritan's Purse packing event on campus. "He gave to us so we should give on to others."
Going out into the community can bring meaning for Biola students because it allows them to share Jesus Christ's story with those in need by showing others love and care.
"It allows us to step out of this Biola bubble type thing and just recognize that, even though we are so blessed here, there's a lot of people around us who aren't," said Emilie Morris, sophomore elementary education major. "We can encourage people and speak so much truth to those people through our words and actions and ultimately try to bring them to the Lord."
Diverse engagement
Participating in church events also presents opportunities to meet those of various ages and grow in community as opposed to staying in the Biola community with only college-age students.
"It's really important that we go off campus and to our local churches and serve because that's what the body of Christ is and… how the church should be: everyone going out and serving together, whether that's with a 90-year-old woman or a two-year-old kid," said Abbey Harmon, sophomore photography major.
A restoration of sentiment
While many people believe that Christmas has turned into a time of selfishness and material hoarding, serving can offer an avenue to restore Christmas to the sentimental, joyous time it should represent.
"To work against the materialism that does surround Christmas… it's not about getting, but instead about giving to others and sharing the joy of the Lord," said Cristina Schmitter, sophomore public relations major.
However, some students agree that Christmas has remained a purely good celebration, and serving only aids in making it even more wonderful.
"I think the importance [of giving] is that letting [people] know that are in need that they're still loved, and in the holidays and stuff, they can still have a nice Christmas as we do," said Kelly Gooding, freshman accounting major. "Anything that gets people this excited and joyful about, I think, is a good thing.