Reindeer Tracks (Christmas Muddy Buddies)
Dreams of Christmas baking using only cafeteria food can come true.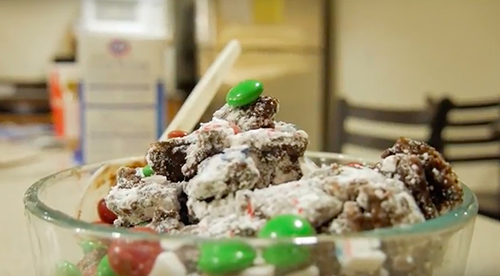 Children grow up with food as an essential element of the Christmas season from the time they decorate Christmas sugar cookies with messy frosting to when they put on the apron and complete the intricate recipes themselves. Nothing brings so much community and holiday atmosphere as baking during the Christmas season, and what a treat it would be to share that with college friends. As luck would have it, Christmas baking proves possible and affordable despite the inconvenience of dorm living.
How to make Reindeer Tracks (Christmas

Muddy Buddies) with a meal plan and $0:
Ingredients
1 ½ cups of Rice Chex cereal
Note: Occasionally the Caf has something similar to Chex cereal, but I bought the Stater Bros. knock-off brand.
1 cup/ 3 spoonfuls of soft peanut butter/almond butter
Note: I used almond butter, but you can find peanut butter in the Caf.
1 cup chocolate sauce
Note: Found near the coffee station in the Caf.
1 tablespoon of butter
Note: Found next to the peanut butter.
1 cup of powdered sugar
Note: Found next to the French Toast station at breakfast.
3 mints
Note: Found by the napkins at the exit.
½ cup of Christmas M&Ms
Note: Found at the ice cream bar on Sundays.
1 large Ziploc bag.
Instructions
Pour Rice Chex into a bowl.

Add the butter to the chocolate sauce and heat for 30 seconds in the microwave.

Heat the peanut butter in the microwave for 20 seconds on power level 8.

Pour the peanut butter over the Rice Chex and let it cool for one minute.

Pour the chocolate sauce onto the peanut butter-covered Rice Chex and let it cool for one minute.

Pour powdered sugar into a large Ziploc bag and add the cooled Rice Chex to the bag.

Zip up the bag and shake until the powdered sugar has covered all of the cereal.

Sprinkle the mints and the M&Ms into the bag and shake again

Put in freezer/fridge for 10-20 minutes. Then pour into a bowl and serve at your next Christmas party!
Warning
This recipe contains peanuts and lactose and may contain other allergens. Serve with caution and be wise like Solomon.  Merry Christmas to you.