Graduation changes bring new design
Fall commencement comes with new ceremony structure.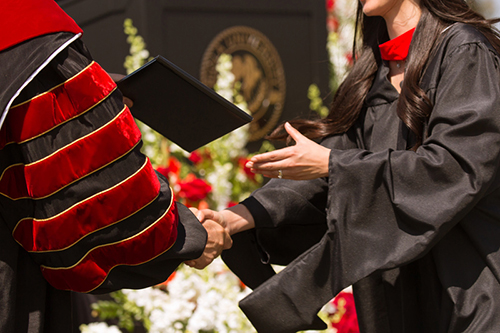 As the semester comes to a close, seniors graduating this semester look forward to their commencement ceremonies, divided by schools rather than undergraduate and graduate as before.
New format
The ceremonies changed this semester due to the expected number of graduates and thus an increased number of audience members, according to assistant director of university events Hilary Dempster. Since the fall commencement ceremonies remain in the gym, capacity remains a large hindering factor.
"We know that our graduates love as many guests that can come as possible, and ticketing it has helped us to, in fairness, create the same number of tickets for every student," Dempster said. "So in doing so [this year] we found the numbers we were receiving from the registrar's office… would drastically limit the number of tickets each student would get if we were able to go ahead with graduate and undergraduate separate."
In order to separate the ceremonies in two, university events looked at the number of students in each school and split them as evenly as possible, with each ceremony having four schools. Students received eight tickets each, including graduate students for the first time, with both ceremonies occurring on Dec. 16, one at 2 p.m. and the second at 7 p.m.
"Hopefully all guests find it to be a really enriching experience because for the first time in a while we are having different levels of graduates graduating at the same time," Dempster said. "And hopefully that inspires identity with the schools to understand what other degrees are offered."
With the varying levels of degrees graduating in one ceremony, some students find the change exciting, such as senior Bible major Austin Rurik.
"It's actually cool, I have a lot of friends who are… in graduate school as theology guys, New Testament guys, so it's cool I'll be able to graduate with some of them," Rurik said.
Hopes to be balanced in energy and excitement
However, for other students the change came as frustrating because of the initial thought of separation from their friends, including senior communication sciences and disorders major Ariana Gruber.
"It surprised me at first, I was initially actually pretty disappointed because I thought I would be in separate ceremonies from some of my friends who were graduating," Gruber said.
Despite the mixed feelings, Dempster hopes the ceremony can become balanced in energy from the excitement of the undergraduates and their families. The benefits of the ceremony can hopefully outweigh any negative feelings and show students and audience members how university events care for them.
"We want students… to know that we care about them and their families and they're our priority that day, that's what the ceremonies are for, so we're… planning for the whole and thinking of the big picture of who all's going to be there and what their experience is going to be like and we hope this provides the best experience," Dempster said.