Makayla and Mindy symbolize accommodation
This dog-human duo take on the world in miraculous ways.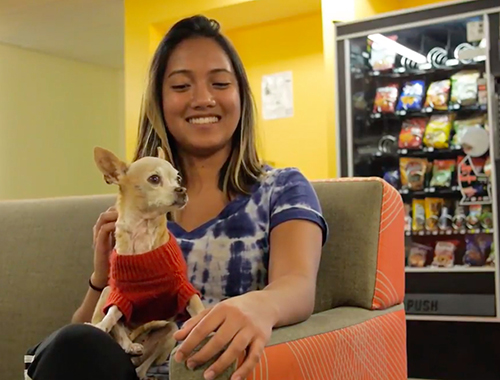 This dog-human duo take on the world in miraculous ways. | Steven Guersch/ THE CHIMES
A cold Petco parking lot in 2007 holds a group of puppies, bounding to and fro within an adoption pen. A pair of young girls approach the pen, curious and eager to explore the box for a potential pet.
A supportive companion
One of those young girls grew up to be current Biola student Makayla Completo, freshman communication sciences and disorders major. She and her sister picked out a small and shivering chihuahua in the corner, named her Mindy and raised her to be as much a part of the family as each of them were.
Mindy is now Completo's official Emotional Support Animal, certified and approved through Biola's Learning Center to accompany and live with her — even in an on-campus dormitory. Mindy currently resides in Blackstone Hall, and the home has treated her well since she moved in late October.
"Almost all good [reactions]. People really like her, she's really quiet, so no problems. Mostly all positive," Completo said. "I think it's a fairly new thing for you to say 'Emotional Support Animal' instead of a service dog. So people are still kind of getting used to that."
A sense of care
The distinction between service animals and ESAs rests in how the animal is trained. While service animals often spend a large portion of their lives learning how to take care of a person with a disability, ESAs more often accompany their owners through simply being a pet and walking with them through their day with no prior training.
For Completo, the loneliness she feels often as a result of anxiety and depression is tremendously helped through Mindy's presence. Describing herself as a natural introvert, Completo believes alone-time is mandatory for a steady peace of mind — Mindy offers a sense of care in those times, not being an overwhelming presence as a person can be.
"[Mindy is] just relieving a lot of stress," Completo said. "Having an animal who doesn't speak is also nice, just the company really helps a lot."
As a means of company, several students on Completo's floor have taken to Mindy rather quickly. Danielle McConnell, sophomore intercultural studies major and Completo's Resident Advisor, felt the students living nearby have embraced both new residents with open arms.
"I was kind of excited that we would have a dog on the floor, and I was also interested to see how it would play out," McConnell said. "I feel like Mindy is our floor anxiety dog because everybody loves Mindy… I can't count how many times I've seen posts on Instagram about Mindy saying, 'This one's keeping me sane,' or 'Helping me through the week.'"
Though the process begins with a resident reaching out to the Learning Center, all people involved in caring for the resident are notified of the change in conditions. Meleca Consultado, Resident Director of Blackstone Hall, provides a means by which residents with ESAs can seek help, but is careful to refrain from singling them out with more attention than any other resident.
"The big thing is that they're another resident with a specific need and I treat them as my resident. So my interactions with them — in the context that they'll need an ESA kind of question is — they know what's expected of them in the community and I treat them as similar as I do [with anyone else]. I get to see Nala and Mindy, and if there's any concern that comes up, I address it," Consultado said.
There are two ESAs in Blackstone Hall, both of which belong to female residents. While Completo may feel comforted by Mindy's presence through the day, she can also feel a greater sense of similarity knowing there is another ESA in the building: a dog named Nala.
Consultado has had to handle situations regarding ESAs in the past, so the process is not new to her. Being a resident herself, she knows well the communication Residence Life must have with the Learning Center, as they deal so closely with students' needs.
"It's not the first time I've had an ESA in my building. We had bunnies in Alpha, all kinds of animals. It's more like, how do we make sure that we're accommodating that need but also if students have questions," Consultado said. "The reality is that Res Life doesn't actually do anything with the placement or the approval of ESAs. It all goes through the Learning Center… So by the time we hear anything, it's already been approved, the students and everyone involved, like roommates, have been contacted."
Floormates, RAs, RDs and roommates are notified as soon as an ESA is approved by the Learning Center to live in the dorms, but that does not sway any objections residents may have to an animal living in their midst.
"People on the floors aren't contacted or communicated [before the ESA is approved]. So it's a per-case scenario. There's times and situations where students are like, 'I didn't know there was going to be a dog and I'm allergic to this floor animal.' And if that, we treat each case case-by-case," Consultado said.
An unbreakable bond
Much like a family member or a friend, one of the most comforting things about having an ESA, according to Completo, is the animal's care needs. Having a being rely on her for everything from company to sustenance drew her to such a strong bond, which very little — if anything — can break it. In Completo's perspective, however, a dog can do this job better for her than any other.
"Bunnies are cool, but I think dogs have a natural instinct to want to interact with humans more," Completo said. "I feel like she needs me. That's like a purpose I have. I wake up in the morning and I feed her."
Similar to a custody battle between two parents, Completo and her sister share Mindy as much as they can, having chosen and raised her through their lives. Because Mindy is a registered ESA, the Learning Center has documented, considered and approved the needs of the resident — parting the two would be difficult to say the least.
"[Taking Mindy to campus] was mostly hard for my sister, because my sister really loves Mindy. We compromised with me coming home every weekend so she can see Mindy. It was actually kind of funny, I was coming home today and she's like, 'Can you not bring Mindy with you?' I was like, 'No, I need her.' It'll be nice during interterm for her to spend more time," Completo said.
She identifies Mindy as a close friend — a companion of sorts, who supports her and is with her when she needs someone to listen without taking energy. Though Mindy shares her love with residents around her, she continues to be near to Completo, as the two mutually love and care for each other.