Loving Star Wars despite its destined fall
With the upcoming addition to the storied franchise, audiences should be cautious.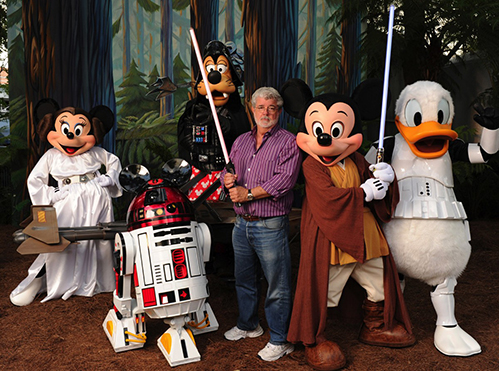 "Star Wars Episode VII: The Force Awakens" paramounted the revival of what fans loved about the film machine created through episodes IV-VI. With the success that brought Episode VII its fanatical and critical acclaim, Star Wars, more than ever, has become an age gap-bridging spectacle.
A new hope
Millennial Star Wars fans lack the nostalgia that accompanied stepping into movie theaters in the '70s to watch the groundbreaking series' first wave. Unfortunately, director George Lucas considerably sunk the franchise in the late '90s and early 2000s. When delving beneath the facade of the prequels' character-by-character development and theme-by-theme blunders, episodes I-III showed exactly why they broke under thin ice. Thankfully, the purchase of Lucasfilms by Disney in 2012 and anointing of  J.J. Abrams as the director of Episode VII harkened at the franchise's esteemed roots.
Episode VII respected episode IV's format in several ways while still leaving something fresh for newer fans to grab onto. Abrams bestowed three new characters to fall in love with while maintaining the same genuine feeling only felt after watching Episodes IV-VII. That nostalgic feeling not only came from embracing the original cast, but it reaped its rewards by taking advantage of the available cinematic technologies never offered before while never crossing the line into a computer-generated fireworks display. Therefore, "The Force Awakens"  continuously proves itself as the Star Wars movie fans wanted all along, all within a year after its release in 2015.
Destined for success
With the upcoming release of "Rogue One: A Star Wars Story" on Dec. 16, Disney has Star Wars fans baited. Rogue One, possibly the most hyped Star Wars movie yet, has allured fans with astonishing trailers that have circulated throughout 2016, exciting even the most skeptical Star Wars fans. Additionally, the direction under rising talent Gareth Edwards and a cast loaded with acting elitists bring along deserved excitement for the dark and gritty origin story. Therefore, "Rogue One: A Star Wars Story" finds itself destined to succeed not only in box offices but in the eyes of super fans.
With the Disney corporation rabidly salivating at the success this film will bring come later this month, the franchise's new family member will only further reasons for the giant money monger going through with its plan to run the beloved franchise into the ground. According to Cinemablend, Disney allegedly plans to release a Star Wars film every year until 2020, with Star Wars Episode VIII in 2017, a Han Solo spin-off in 2018, Star Wars Episode IX in 2019 and a rumored Boba Fett spin-off in 2020.
Continual overexposure
It seems inevitable that Disney will sodden Star Wars, plunging fans neck-deep in oversaturated storyline platitudes in which they continue to exhaust with the Marvel Cinematic Universe, raising the question of whether fans will remain on board. A time will eventually arise where a continual overexposure of a limited cinematic universe becomes realized and lightsaber duels and quirky aliens will lose their magic.
Sadly, Disney will soon render the franchise irrelevant. Disney, the modern-day corporate robber barons, lack boundaries. Where there exists a lack of good boundaries, there lacks a creative flow, and with the lack of creative flow, art ceases to exist. Star Wars, when executed perfectly, embodies entertaining cinematic art. For better or worse, I, like millions of others, will embark and immerse into the next chapter of the Star Wars universe come Dec. 16 and we will love it and enjoy every moment of it while Disney watches their master plan unveil itself.