Let there be light
The lighting of Biola's Christmas tree opens opinions on early holiday celebrations.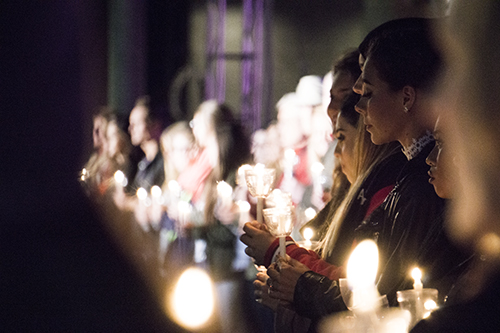 'Tis the season for Christmas trees, glass ornaments and eggnog. Each year, Christmas decorations, festivities and music get integrated into people's lives a little earlier. You walk into any store in the fall and Christmas decorations are everywhere.
Sentimental significance
Moreover, Christmas is seen as the end goal — it not only signifies the end of a semester, but family time and gift-giving. As students' mindsets begin to align themselves with the Christmas spirit earlier in the year, they have to ask themselves if they are shortchanging their fall experience.
A full 26 days before Christmas, Biola celebrates the birth of Christ through the lighting of the enormous Christmas tree on Metzger Lawn. The tree is almost as tall as Calvary Chapel, and is a beautiful juxtaposition against the blue sky during the daytime. The lighting brings in numerous people from Biola and the surrounding community, and alumni travel from afar, likely making the event one of the highlights of their Christmas season.
As the tree lighting event began, everyone from the community headed to their seats, many with $1 coffee cups in hand. Dahria Messina, freshman English major, described it as undoubtedly magical, though many ironically vocalized that the Christmas season was thwarted with commercialism. Secularized holidays should nonetheless be celebrated and redeemed through a Christian perspective according to Messina. They should never be tossed out simply due to their supposed worldliness— rather, believers can bring them back to relevance through Christian-based celebration.
"[It is a] wonderful community experience," Messina said. "There isn't anything wrong with celebrating Jesus' birth."
Joy and thankfulness
It is safe to say Christmas celebrated in the confines of Christianity is very different from secular Christmas. Where stress and shopping exist in the world of nonbelievers, joy and thankfulness encompass the believer's experience of this time of year. Alumnus Austin Lewis explains with care how Biola's tree-lighting ceremony plays on that disparity.
"[The lighting] was different because I'm in a different place," Lewis said. "I like how they play Christmas music that is biblically-centered, and then read portions of the Christmas story."
While Christians across the nation tend to believe in the corruption of holidays by the non-Christian world according to popular preachers like Billy Graham, many tend to believe they offer an avenue for evangelism and a means by which Christians can come to understand their faith on a deeper level, according to Bible.org.
Intentional celebration
For Biola, this means the tree lighting ceremony offers an opportunity for tradition to be celebrated intentionally. The event gives alumni an excuse to return to campus and participate in an event they experienced as undergraduates as well. However, Biola's administration has implemented several changes in recent years, from accommodating for a greater audience size to the selective use of candles on Metzger Lawn.
Many students and alumni were upset about the lack of real candles, though many acknowledged the logical safety of the situation. How to navigate the complaints of attendees, keeping them safe and adhering to tradition rests in the hands of Biola's Campus Safety, Student Development and Risk Management.
"I liked it here with a real Christmas tree. I didn't like how everyone didn't get the candlesticks. They used to pass them out to everyone. It might be a fire hazard, though," Lewis said.
Natalie Fikejs, teacher from Whittier, said she had enjoyed the event and has been coming for many years. Although she missed the big tree from past lightings, she still thought that the new location of the event was better than before — once in front of Crowell Music Hall. She appreciated Christmas celebrations after Thanksgiving and pointed out that she would not sacrifice the essence of the holiday just because of the shopping aspect of the season.
"Christians still celebrate it in a good way and in the right way, but just in a different way. Christians don't celebrate it earlier for the sake of it being a Christian holiday," Fikejs said.
During the event, everyone was smiling and taking pictures, and the idea of celebrating the holiday early was overall positive. Allison Tutt, freshman nursing major, vocalized how she thought the tree lighting was amazing because it encouraged camaraderie and it is good for the whole community to celebrate together.
"I love early celebrations, I celebrate before Thanksgiving because the more Christmas, the merrier," Tutt said.
Tutt even went as far as to say that Christmas could be an all-year event. The Christian worldview would then refocus the holiday because it is about more than Christ's birth — it is about his death and resurrection as well.
Everyone at the event was excited about the Christmas season and emphasized that the Christian perspective alters the secular influences on the holiday and not only makes it wholesome but ultimately God-glorifying. The tree lighting served as a perfect time for families and students to adopt a mindset of giving and remembrance of Christ. One thing was made very apparent throughout the event — the Christian significance of Christmas can only add to this festive season.