Chimes' Athlete of the Week: Men's Basketball's Dakari Archer
A perfect night of shooting from men's basketball senior All-American point guard Dakari Archer earns him the Chimes' Player of the Week.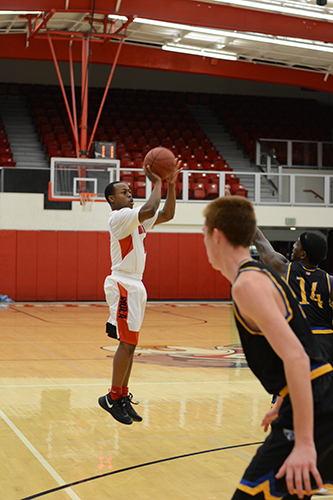 Zero — the jersey number of star senior point guard Dakari Archer and the number of shots Archer missed in a Nov. 23 win against the Embry-Riddle University Eagles. Archer, in his sharp-shooting form, went 8-8 from the field, including 5-5 from downtown.
Despite the magnitude of his performance, Archer has confident awareness of his capability to put on a show.
"It doesn't really feel like anything to me because I know what I can do if I put the time in to get better and work hard. So it's not something that is surprising to me," Archer said.
The star senior paced the Eagles' blowout win with 23 points. Archer's perfect night pushed his season field goal percentage to a career-high 48 percent. An All-American last season, Archer's senior campaign has been encapsulated by career highs, increasing his field goal percentage from 46 percent in 2015-16, as well as raising his three-point percentage from 38 percent last season to a lethal 43 percent beyond the arc so far this season.
Stats: (Nov. 23 against Embry-Riddle) 29 Minutes, 16 Points, 8-8 FGM/A, 1.000 FG%, 5-5 3FG/A, 1.000 3PT%