"Nocturnal Animals" goes against the traditional framed narrative grain
Tom Ford's revenge thriller supersedes the best frame narratives ever told in cinema.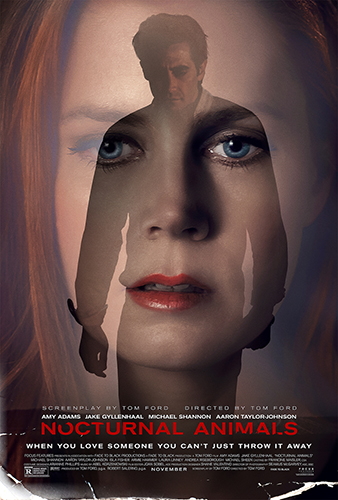 Hang on for a minute...we're trying to find some more stories you might like.
The framed device functions as a literary trope, unleashed effectively through masterpieces such as "Heart of Darkness," "The Sun Also Rises" and "The Great Gatsby." The effective story within a story module has found itself a home in film repeatedly, with "Synecdoche, New York," "The Princess Bride" and now "Nocturnal Animals," all exemplifying the intelligent use of the storytelling element. Specifically in these aforementioned movies, the framed narrative furthers a theme or idea of the film.
Intertwining stories
"The Princess Bride" remains a popular example of this approach. A comedic spin on the classic fairytale, the story is delivered as an actual fairy tale being read to a child in the real world, which works in a jovial way.
Fashion designer and director Tom Ford's visually pleasing "Nocturnal Animals" exhibits a compelling use of the frame narrative. Ford presents to the audience three stories — all intertwining seamlessly. Amy Adams, continuing her phenomenal year of acting, plays Susan Morrow, an art gallery owner who receives a manuscript from her ex-husband Edward, played by Jake Gyllenhaal.
The manuscript is an unpublished copy of Edward's latest novel called "Nocturnal Animals," a nickname given to Susan when they were together. Her ex-husband's novel, which represents the second level of this multilayered story, centers around a man traveling down a road with his wife and daughter. It eventually evolves into a horrifying abduction. While the two stories are told, an additional story manifests in flashbacks of Amy's relationship with her ex-husband that ensuingly expounds upon the meaning of her husband's book and the reasoning behind why he sent it to her.
Lynchian recollection
The manner in which each layer of these surreal themes blur the line between film and reality inevitably harkens at David Lynch's mystifying "Mulholland Drive." The ending of Ford's first film in seven years furthers the comparison to Lynch's masterpiece as it constitutes the perfect culmination of consistent disclosure, highlighting the significance of each piece of this framed narrative.
When done carelessly, this trope has caused many movies to fail. Take "Titanic," for instance. The melodrama and emotional stakes of that film become almost unnecessary when one realizes all of the scenes were, at their core, memories made into a story recounted by an old lady. Director James Cameron, adding this overarching narrative told by an elderly Rose adds an almost unnecessary element to a simple screenplay. It feels like this hamfisted frame narrative was only concocted to avoid criticism of following the streamline of cliched biopics and to add an unnecessary flair to appease critics. Cameron failed to respect the audience's intelligence.
Symobiotic trust
Ford does not repeat Cameron's mistakes. Instead of spoon feeding the narrative to his audience, he requires their attention to hints and allusions between three layers of narrative. The resulting epiphany makes the film's purpose that much more emphatic. The framing device requires a lot of viewer participation, creating symbiotic trust between the director and the audience. This film's worth finds proof as Ford guides those who trust him through his twisted, multi-layered story
About the Writer
Kyle Kohner, Copy Editor & Office Manager
Amid his final year with the Chimes, Kyle is a four-year vet of the publication. Before this year, Kyle began his tenure like most at the Chimes—as a freelancer and an apprentice. He's also held positions as the online editor and the A&E staff writer in the past. He also demands that you all go watch the movie "Hereditary."

Hello there! My name is Kyle Kohner, born and raised in San Bernardino, California. I am a senior journalism student at Biola University and a self-proclaimed film...