Millennials gravitate toward multimedia authenticity
Advertisers must use more encompassing methods to connect with postmodern generation.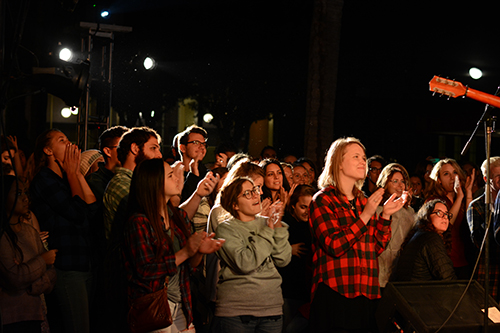 On a warm Tuesday night in April, I find myself packed in a mob-like crowd with not even enough space to think for myself. The lights cut out and suddenly, I hear a roar of synths coming from the stage while television noise flashes across four massive LED pillars and giant display in the back. A loud cry of excitement bellows in the 5,000-capacity Shrine Expo Hall located in Los Angeles, Calif. Then the music drops, and, in an instant, I feel like my whole world shakes via pink lights, '80s vibrato synths and thousands of screaming fans. I feel like I completely understand every member of The 1975 onstage and the member of each person in the crowd. In a day and age where technology advances in each passing day, members of the millennial generation seek authenticity in sensory outlets, not just advertisements.
Generational longing
Each passing generation longs for logic behind how the world operates. They want to "get it." Millennials seek the same wisdom, but the methods evolved in a postmodern age. The days of living a private lifestyle lie only as a dream in the minds of youth that involuntarily immerse themselves in the age of technology. People can discern a person's demeanor before they even meet someone because of the mass machine known as social media.
With an overload in technology comes superficiality. Ad agencies look to capitalize on the movement by flooding feeds with corporate-made hashtags and paid advertisement in the middle of Snapchat stories. Their prideful confidence in their ads depicting this generation emits the feeling that they magically grasp exactly what a generation wants. Advertisers think if they put memes in television commercials and use the word drone in their ads, they now live on the same beat as millennials.
Deep, personable mindsets
This mindset alienates advertisers from the generation they think they understand so well. Millennials thrive on deep, personable mindsets. Fans of The 1975 hang on every word spoken out of lead singer Matt Healy's mouth because he verbalizes his feelings that are common in the paradigm of this generation. He talks like he knows each and every one of his fans.
More importantly, The 1975 serves as a prime example of utilizing multimedia sensory to encapsulate target audiences. Their aesthetic leaps and bounds with pastel colors, capitalized letters and indie emo haute-couture style. They follow this mindset on every feed of their social media outlets. Better yet, they prove themselves worthy of the lifestyle by portraying it in their shows.
The feeling of belonging
Music festivals now follow suit as well. In generations past, festivals would solely focus on music. Now in an evolving age of postmodern art and technology, most shows, such as Coachella and Panorama Music Festival, include massive, interactive art pieces and experiences such as silent discos. Even the simplicity of lying in a huge field listening to music pound in the air while a huge string of balloons floats across the sky at Governors Ball Music Festival in New York City emanates a feeling of encompassment and belonging.
Millennials do not search for authenticity in a corporate-created age of superficial technology. Rather, they look for the feeling of belonging in a place that will stretch to every area of their senses and impact them in the places they thought no member of a band or music festival could find. They look for that silent, burning sensation in their chest from the sheer, muted joy found in hearing their favorite singer talk philosophy in a song while surrounded by lights and a common love for one another in the moment. Seeking authenticity in an age of postmodern skepticism becomes a mystifying task because of its volatile nature, but advertisers must learn to embrace the technology and use it honestly rather than morphing it into what they think millennials want.