Archer sharp-shoots Eagles to victory over Embry-Riddle
Eagles extend unbeaten start to season thanks to perfect night from Archer.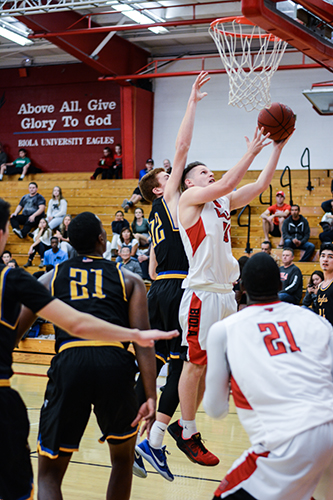 Men's basketball extended their undefeated start to the 2016-17 regular season with an 82-58 landslide victory over the Embry-Riddle University Eagles on Nov. 23. Star senior guard Dakari Archer got a head start on Thanksgiving Day and left no room for stuffing as he feasted upon the opposition's defense with 24 points.
The defining difference
In the first half, Archer led the Eagles with 14 points on 5-5 shooting. However, Biola's big men met their match with Embry-Riddle as the two sides posted identical stats in the paint with a half in the books. The defining difference in the first half relied on points off turnovers as the Eagles stole the ball four times and capitalized on 11 Embry-Riddle turnovers. The Eagles exited the first half with the momentum on their side and a 10-point lead.
Within the first five minutes of the second half, Biola extended their lead to 14 points thanks to tighter defense in the paint.
Offensive fireworks
Archer continued to put on the usual offensive fireworks as he hit three three-pointers within three minutes to help extend Biola's lead to 20 points with 10 minutes left to play in the game. Archer finished the night with perfect shooting as he tallied off 24 points on 8-8 shooting, including 5-5 from downtown.
Biola's big men rekindled their usual domineering play in the paint in the second half thanks to the imposing presence of senior forward Jeff Gonzalez and sophomore forward Alex Talma, who headline an improved shooting frontcourt.
"Our team's shot selection this year has been great, and I think it's led to all of us getting easy baskets and being more efficient," Gonzalez said.
A huge helping hand
The two physical specimens combined for 29 points and 11 rebounds on the eve of Thanksgiving. Biola received a huge helping hand to their defense as junior forward Steve Herve, back from an injury, saw his first action of the season by displaying improved footwork while chipping in five rebounds and five points.
"We need everyone to stay healthy, that's the big key," Gonzalez said. "Obviously we need to keep our intensity and drive, but having all of our guys ready to go every night gives us the depth on the bench that makes us so competitive."
Biola eventually finished off Embry-Riddle and went on to win in convincing fashion by 24 points. With the win, the Eagles move to 8-0 in the season. Biola will travel to Fullerton, Calif. to take on Southern Oregon University on Dec. 2 at 5:30 p.m. for the first game of the Hope Classic, hosted by Hope International University.