Zao diagnoses listeners with "The Well-Intentioned Virus"
The Pennsylvania metalcore legends pour their best qualities into an irresistible comeback.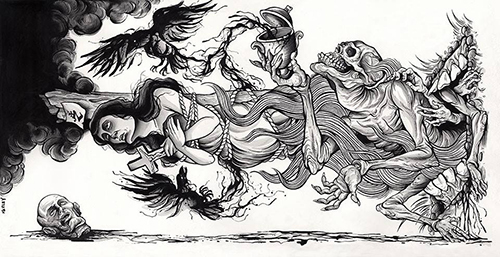 One of the formative bands in metalcore, Zao's influence and innovation within the genre has gone sadly unnoticed. The scene lost sight of this wave of music with the explosion of metalcore in the late 2000s. After releasing 2009's "Awake?," a decidedly safe release in comparison to the band's more forward-thinking discography, Zao faded into obscurity for several years.
A contagious virus
Regathering attention through sporadic festival appearances and tours with younger bands like Jesus Piece, Zao began promoting what would become "The Well-Intentioned Virus." With a release projected for Dec. 9 through the band-operated Observed/Observer Records with Holy Mountain Printing, the legendary metalcore storytellers provide a stunning contribution to a genre that may have lost sight of its roots in their absence.
Any worries about Zao going soft went right out the window with the release of 2015's "Xenophobe/Fear Itself," which only intensified once the overwhelmingly intense title track, infectiously abrasive "Observed/Observer" and ominously brutal "Haunting Pools" released. With an eclectic array of influences ranging from Neurosis-esque post-metal and the vocals and riff-mongering of mid-era Carcass, to noisecore and spaced out prog-rock, Zao uses the absolute best of their sprawling style.
"The Weeping Vessel" brings Zao's confrontational and placid elements to a head, juggling gorgeous modulations and savage groove which build to a drivingly hypnotic climax. This only scratches the surface of what six-string trickery Russ Cogdell and Scott Mellinger dish out.
Every single riff on this record is memorable. Scott recalls his tech-metal roots with a couple shredding guitar solos and well-placed virtuosic flourishes, while Russ' feral noisiness and unpredictability keep listeners on their toes. "The Sun Orbits Around Flat Earth Witch Trials" beautifully encapsulates this tasteful bodaciousness, with meticulous harmonies and pinch-harmonics accentuating a breakdown on par with "A Fall Farewell."
internal and familial torment
While "Apocalypse" harkens back to the creepy atmosphere of "Liberate Te Ex Inferis," "Jinba Ittai" boasts a triplet-based sludge metal groove Iron Monkey would approve of. Through these fluctuations, the melodic cohesion — both in instruments and Mellinger's singing — and professionalism present in "Funeral of God" ties it together in a lethal package of old-school aggression.
The remastered and partly re-recorded "Xenophobe" holds up the violent end of the spectrum with hair-raising guitar stabs and dynamic technicality. Complete with a harmonious interlude and a life-ending slam section, this song showcases how well this band functions as a unit. The jazzy nuances of Jeff Gretz's drumming and Martin Lunn's fleshy bass tone find their most natural place in Zao's sound on record, providing the perfect foundation for the guitars and Dan Weyandt's unspeakably awesome vocal performances.
Weyandt's voice and lyrics remain the cornerstone of Zao. Wearing his sludge-doom obsession on his sleeve, his delivery here steers into his filthiest affectations through tight arrangements and thoughtful lyricism. "Broken Pact Blues," a plea to his brother who broke a suicide pact they made a decade previous, represents an album's worth of internal and familial torment, along with fiery indictments on sociopolitical and religious issues. Weyandt holds no bars as his heart-wrenching signature opens the mind and shreds the soul with unforgettable passion and savagery, leaving some room to breathe with his concluding spoken word.
Zao's "The Well-Intentioned Virus" provides the perfect summation of what makes these five musicians worthy of the reverence they receive, while also reaching a surpassing level of diversity, viciousness and sublimity. Their self-awareness trumps any self-righteousness, as "I Leave You In Peace" clarifies, but their singularly confrontational dimension of crushing riffs, terrifying wretches and beautiful songwriting awaits those who take the trip.