Penny & Sparrow chat after playing the Eddy
The duo speaks about their origins and life as traveling musicians.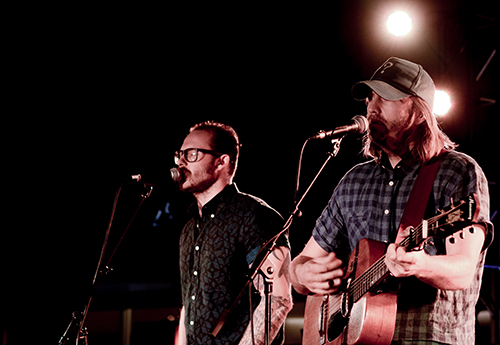 "It was a cold day," he began. The words coming from Kyle Jahnke were met with a laugh from his friend and bandmate Andy Baxter as they spoke of the beginning of their adventure into the unknown world of touring as a band. Baxter and Jahnke, the two members of Penny & Sparrow, headlined a free show at the Eddy on Nov. 17.
the descent into madness
The union between this duo began eight years ago when Baxter needed a place to live in college. As a favor to Baxter's then girlfriend and now wife Sarah, Jahnke had provided a place for Baxter to live. Baxter and Jahnke started playing music together as a hobby, playing covers for friends.
"It slowly progressed the descent into madness," Baxter said.
The progression into becoming a full-time traveling band did not start out as the goal for Baxter or Janke.
"We didn't see ourselves here four years ago. I don't even really think we saw it two years ago," Jahnke said when asked if they saw the band being taken into this direction when they started. "Three years ago we had full-time jobs doing totally different things and this was just a hobby, it kind of still is."
Not many get the opportunity to turn a hobby into a full-time job, but this has become a reality for Baxter and Jahnke.
"Thankfully, we can pay the bills doing it," Baxter added.
Working in a touring band can indeed have its ups and downs with all the traveling, meeting lots of people and juggling friendships. For Penny & Sparrow, the road has its challenges but it also has times of bliss, such as the enjoyment of going into comic book stores, eating at cool restaurants and seeing all parts of the United States and each region's unique culture. Some harder parts of touring include the inconsistency of friendships at times.
"You say goodbye to a lot of people pretty often," Jahnke said. "You don't get to have your routine friend that you get to chill with on Saturday."
With all of the travel, it can become hard to have some consistent relationships, yet the guys tend to look on the bright side of things.
"Not that it is bad or good on either side, it is just our reality," Baxter said. "I would go as far as to say my preference is home, but it is not a 80-20, 90-10 preference, it is more like a 65-35."
What keeps people grounded?
Touring can become a challenging balancing act with everyday life for the band. Baxter cites his wife, the Lord and his belief in what he and Jahnke do and why they do it as what keep him grounded.
"Family. I feel like it is no different than any other job," Jahnke said. "What keeps people grounded? Friends, family, any good time you can latch onto and use as fuel — joy fuel."
Whether touring, recording or just hanging out as friends, the life of a traveling band remains full of excitement and business. The members of Penny & Sparrow are both passionate and entertaining on and off the stage. For both, being in this band is still fun and writing is still enjoyable.
Penny & Sparrow have a new Christmas album out and continue working on a brand new album that they will start recording soon. Baxter and Jahnke want to say, in all capital letters — as they requested for emphasis — "WE LOVE BIOLA!"