That time I…experienced the L.A. Auto Show
The annual car show, with an abundance of automobiles on display, did not disappoint.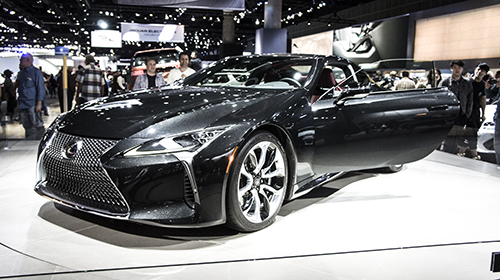 I was greeted by what can only be described as sensory overload for a car person. Spread out in front of me were rows upon rows of cars, trucks, SUVs and any other type of automobile imaginable. Thousands of people roamed through displays from roughly 40 of the world's top manufacturers spread out across the South and West Halls of the Los Angeles Convention Center. The 2016 Los Angeles International Auto Show had arrived.
a staple of the automotive world
Since its founding in 1906, the L.A. Auto Show has been a staple of the automotive world. Since the United States, Southern California in particular, is such a huge market for the majority of automakers, those very companies use the L.A. Auto Show to display their finest work and release their newest models.
The show itself runs from Nov. 18-27 and costs only $15 for a day pass to the event, not including parking — I decided not to fight the downtown L.A. traffic and just parked in a parking garage.
Once I entered the show, I had a decision to make. Where in the world do I start? The show spans two halls and two floors, so I decided to work from the ground up. I went downstairs to what they call "The Garage," a place where all the aftermarket automotive parts were located, as well as the most high-end rides. The display featured not only accessories such as wheels, tires, window tints and wrapping products, but also cars from automakers such as Ferrari, Lamborghini and McLaren. The highlight of the exhibit for me had to be seeing a beautiful silver Ferrari LaFerrari sitting with its doors extended to the heavens, looking for all the world like a spaceship rather than a car.
After spending, admittedly, a very long time drooling over all the supercars on display, I knew I needed to move on, so I made my way over to the South Hall where the majority of the show was located. First of all, each automaker could design their space, so some manufacturers brought in lounge chairs, others interactive games and activities, and one even had a live four-man jazz band for ambiance.
Most of the automakers had displays either demonstrating or defining their newest technology in terms of powertrains, interior gadgets or safety equipment. Technology has been something that plays a huge role in the automotive world, and will undoubtedly continue to do so as long as humans need cars in order to get places.
I have been amazed with the standard of technology that is available on the most basic of cars nowadays. What used to be considered top-of-the-line is now available to nearly anyone. Some examples of this include navigation systems, connectivity for cell phones and other devices, cruise control, lane departure warning sensors and parking assists. Only five or so years ago, these would only be found in something like a Mercedes-Benz S-Class, but are now available in cars such as the Hyundai Elantra.
Advanced car technology
Consumer's demand for technology continues to drive up the cost of new cars — even the most entry-level ones. For example, the cheapest Elantra starts at just over $17,000, and the cheapest car I could find at the show was a Nissan Versa for just under $12,000. All this means that, for the average college student, a new car may not be entirely feasible, but with the amount of trickle-down technology from high-end cars to the base models now, the used car market's future looks awfully promising.
Something that I love about the automotive world is the community. Like any large group of people, there are disagreements between the members constantly, but at events like the L.A. Auto Show where nearly everything is represented, none of that seems to matter. As I was walking around, sitting in cars and generally taking in the whole event, I found myself casually chatting with random people about whatever car we happened to be nearby.
At one point, I was sitting in a BMW M240i convertible, and a man came up to me and started talking about how he was in the process of deciding if he was going to lease that car or a Ford Mustang. We talked about the qualities of each for a few minutes, then we went our separate ways. Another time, I was sitting in a red Range Rover, and a man peeked in through the open passenger window at the car's interior, noticed me with my red sweatshirt sitting in the driver's seat, and told me that I must be meant to have the car because it matched my sweatshirt. Those are but two examples of how cars can bring people together in a world and country that has so much division.
Being surrounded by so many cars and people could seem overwhelming, but the cars themselves offer an escape. The vast majority of them were unlocked and allow the showgoers to sit inside and get a feel for the driving position, the amount of space in the back seat or see how large of a trunk the car had. Once inside a car, especially if in the driver's seat, it becomes easy to forget all the masses of people, and I was able to have a few moments' rest before diving back into the barely-organized chaos.
Though not my first time attending an auto show, this was my first time attending the L.A. Auto Show. All in all, I enjoyed the experience and came away from it with some new understanding of where the automotive world is now and where it is heading. Los Angeles International Auto Show — the pleasure was all mine.