Get to know your faculty — Joy Qualls, chair of communication studies
A wide array of experience in many different fields justifies her position.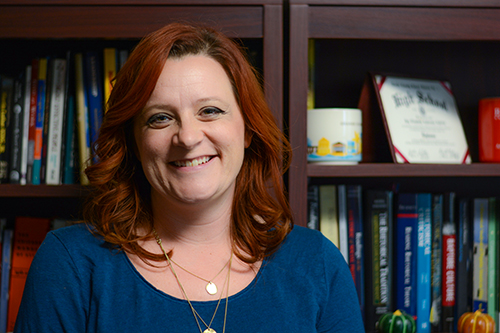 Gender studies, religion, politics, communication — Qualls expands on her educational background and focus of study with joy in her eyes.
She travels internationally as much as she can, collecting Starbucks coffee mugs at every location she visits as souvenirs. Qualls has led Biola's communication studies department for two years, learning more about the campus and southern California — she never thought she would return to the area after graduating from Vanguard University as an undergraduate. She focuses her energy on choosing classes she truly cares about and focusing on how best to foster students in those subjects without overwhelming them.
Q: To start off, I see you have a collection of international Starbucks mugs — what's your opinion on coffee?
A: "I do like a dark roast coffee. Now, if I had to do it over again I would do a Nespresso machine and not a Keurig, because I think it's a little better quality coffee. A Nespresso is a pod machine, too, but it's a European pod machine, and it can do both espresso and coffee… The darker the better. I do have some missionary friends who live in Tanzania, who brought us coffee from Tanzania, and it was the best coffee I have ever had. It's very earthy."
Q: What did you study before you joined Biola's faculty?
A: "I study, personally, historical events and people. So I look at and critically evaluate how their rhetoric impacts us today. So a lot of times I study dead people more than I study current people… My research emphases are in political, religious and gendered communication. So I particularly look at the intersections of the three. So, I study faith and politics, women's roles in the church, women's roles in politics and all that. I kind of stumbled into being a gender scholar, I didn't set out to be that. But I studied women in the church in my Ph.D. program and I studied political comm in my master's program, so now I get to integrate the three of them together."
Q: You've only been here for two years, and for both have served as chair of the department. What made you come to Biola?
A: "I was in a place of transition in my career, so it was a natural move to make. Biola was very attractive to me because I have been to school out here. So I was familiar with Biola, and I was familiar with the climate. Southern California was a harder move for us. My husband's from the East Coast and I grew up in the midwest, so we always thought we would live on the East Coast and not the West Coast. So that's been a harder adjustment. Biola had a good reputation, and it was a good move for me career-wise, so it made a lot of sense and I have not had a day of regret. Not once."
Q: What does the communications department mean to you?
A: "I sometimes refer to us as the academic arm of the study of communication. Meaning, journalism and film and other areas of communication study are more practitioner-oriented. We engage a lot of the same concepts, in fact a lot of those departments all were sort of birthed out of our department, but most of what we do is we look at the hows and whys of communication, but in terms of how-to and also why we communicate the way we do, and how do we understand how we communicate, and why."