Eagles earn a Royal flush
An aggressive attacking style played in the Eagles' favor in a 2-0 victory over the vaunted Royals.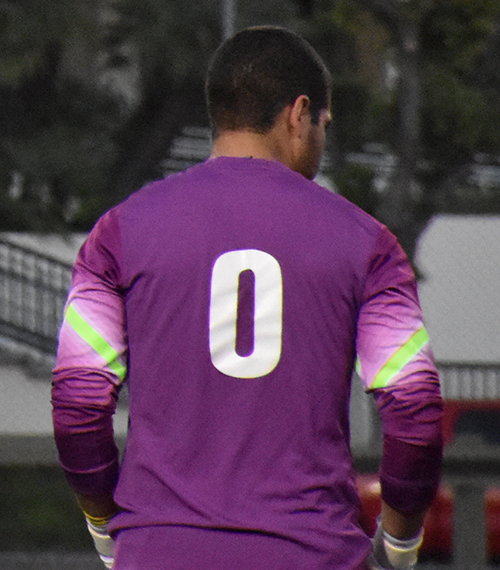 After a scoreless first half, the Eagles' men's soccer team converted on two phenomenal goals while defense proceeded to reign superior as they dethroned the Royals from the seat of perfection on Oct. 18.
Utter Domination
Men's soccer traveled to Fullerton on Oct. 18 to take on the undefeated and division-leading Hope International University Royals. Tuesday marked the first game in a week — a good, long rest for this talented but struggling Eagles team.
Week in and week out, the Eagles' play on the field remains solid, but failure to capitalize on an abundance of scoring opportunities has led them to four losses. However, in Tuesday's game, Biola utterly dominated from start to finish once again, both offensively and defensively.
The Royals had the first real scoring between the two teams on a penalty kick. Fortunately, junior goalkeeper Igor Puglia came up with a big save half way through the first half, halting the Royals' offensive assault. From that point on, Biola's defense suffocated the Royals, preventing them from making any effective movement past midfield thanks to the stifling midfielders, sophomore Kousei Mattox and junior Jarrett Pugh.
A furious attack
Despite the strong play on both sides of the ball, the Eagles seemed doomed to fall into old habits regarding their inability to score.
The Eagles bucked the trend in the second half and came out on fire, furiously attacking the Royals' defense. Eventually, their unlucky misses and untimely shots ceased. The offense moved past shortcomings as junior defender Sammy McKay lifted Biola ahead in the 61st minute as he headed in a goal off Mattock's corner kick.
As the game progressed, Puglia continued to make phenomenal saves. Since the beginning of the season, the Eagles' backline has received praise for allowing the least amount of goals in the Golden State Athletic Conference. The defense continues to deservingly attract attention for their play. However, with each and every passing match, the Eagles' goalkeeper from Brazil continues to put on a spectacle, providing dazzling and critical saves game after game.
The Eagles put the game out of reach with little over two minutes to play in the game as Pugh iced the Royals with a successful penalty kick goal, boosting the Biola lead to 2-0 for the final score.
Tuesday's win could have not come at a better time and is especially important for the Eagles, considering they knocked down the once undefeated Royals. The win provides for a major morale boost in preparation for when they come home Saturday, Oct. 22 in a revenge game against the San Diego Christian College Hawks.